Archaeologist Catherine Draycott is to probe the lack of racial diversity in her field at ThinkFest next week.
In a talk entitled "Why is Archaeology so white? And what can we do about it?" Durham University professor Dr Draycott will sketch out a research proposal and pilot a survey at this year's third ThinkFest presentation on September 12.
She is encouraging all Bermuda residents to take part in the survey – "Archaeology Horizons: a survey of racial affinities with archaeology [Bermuda Pilot 2019] which can be found online, at think.bm and at ThinkFest.
Dr Draycott said: "Archaeology has traditionally been a subject in which black and minority ethnic communities are poorly represented among students, academic staff and field professionals. Hypothetically, this is due to institutionalised ideas about what archaeologists study.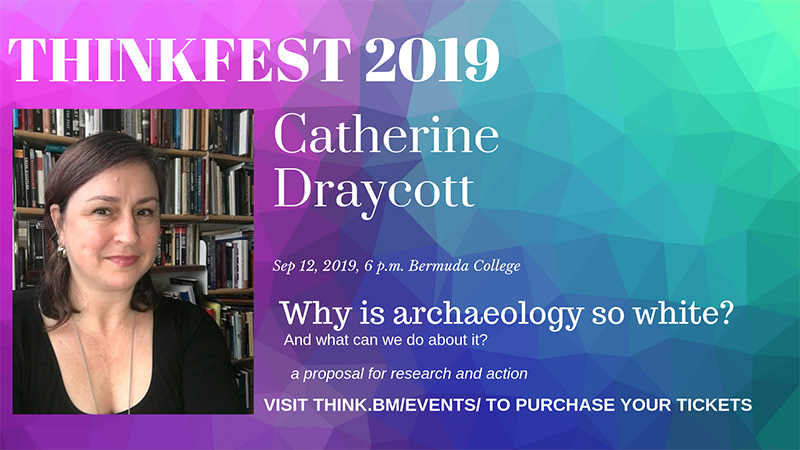 "I will present some background information on statistics, current debates and problems, and open the floor to attendees to share their experiences, views of archaeology and ideas for change."
Audiences will also be introduced to the few black archaeologists and an overview of their contributions.
Dr Draycott is also slated to deliver a second talk on the art found in tombs of western Anatolia [Turkey], entitled "The art of the Dead: an archaeological journey of discovery.
Dr Draycott said: "This talk will take people through the author's research on tombs in the region now known as Turkey, showing the great variety of memorials that existed, problematic cases and new interpretations, and how tying together overall patterns of representation can reveal social dynamics that would not otherwise be noticed."
It will focus on ancient Western Anatolia or Asia Minor, now western Turkey—a rich area that the Persians conquered early and which became a major staging ground for the Greco-Persian wars.
"While written sources are scarce, the area is well-known for its tombs, which flourished after the Persian conquest, and some of which carry rich memorial art. The talk will show how this art evinces social and cultural identities that emerged as people who were in many ways related to their Greek neighbors variously positioned themselves within a new Persian Empire."
A former artist and journalist, Dr Draycott has a doctorate in classical archaeology from Oxford university and currently lectures at Durham university.
Her research focus is on the neighbours of the Greeks in Anatolia [modern Turkey] and how to use their art and architecture to understand a place that was historically significant, but lacking in written records
ThinkFest is Bermuda's first seminar series featuring an all Bermudian cast of outstanding academics and independent thinkers.
Ayo Johnson, founder of ThinkMedia which is producing ThinkFest, said: "Change happens more rapidly when those with privilege join the ranks of the change makers by using their platform to question the status quo. Catherine's new research proposal sets the foundation for positive change. We were delighted to accept her ThinkFest proposal for this year.
"Audiences will also have a unique and rare opportunity to learn about how art found in tombs can provide clues to an ancient civilization."
The newest event on the Bermuda calendar, ThinkFest is an opportunity for the island to celebrate and acknowledge Bermudian academics and independent thinkers, a platform for networking with potential employers, funders, other academics and researchers and a forum for discussing the latest research in a wide variety of fields.
Each of the ThinkFest presenters dive deeply into a single topic for an extended period, followed by a chat with a host and audience Q and A.
The festival of Bermudian thought leaders will also feature writer Ajala Omodele and researchers Cordell Riley and Robert Stubbs and end with a talk by historian Theodore Francis. Tickets for ThinkFest 2019 events can be purchased online or at the door. Visit the website for more information.
Read More About