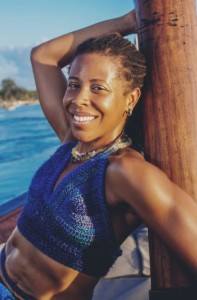 Think Media announced that Think Fest 2019 is to launch on Friday, August 23 with a talk by Joanne Ball-Burgess [pictured left] at the Bermuda College.
"Ms Burgess-Ball will deliver a presentation entitled: The Journey to Self: Surviving a Terrorist Attack and Thriving in Kenya in which she will discuss in detail her experience of being trapped in Westgate, a Nairobi shopping mall during a 2013 terrorist attack, reflections on African and Bermudian identity, as well as her personal growth and development since relocating her family to Kenya nine years ago," the announcement said.
"Think Fest is an opportunity for the island to celebrate and acknowledge independent thinkers, a networking platform and a forum for discussing the latest research in a wide variety of fields. Ms Burgess-Ball has never before spoken publicly about the Westgate attack."
"I am interested in sharing my path of healing and recovery. I want to share with the Thinkfest audience that it is ok not to be or be seen as strong all of the time," she says.
Also on the ThinkFest agenda this year are:
Oxford university lecturer Catherine Draycott, Dphil Classical Archaeology, on "Why is archaeology so white?" and "The Art of the Dead: an archaeological journey of discovery."
Writer Ajala Omodele, will deliver a talk entitled "Black Stories Matter: Why We Must Write, Teach and Pass On the Tales of the Lions."
Researcher Robert John Stubbs on "Bermuda's economic train wreck: how the financial sector crashed our economy."
History professor Theodore Francis on "Vacations for Liberation? Bermuda, Black Tourism and the Global Politics of Traveling while Black."

Ayo Johnson, ThinkMedia founder, said: "We're excited about the range of topics this year's ThinkFest will address. Audiences can look forward to provocative discussions and asking probing questions."
As with ThinkFest 2017, organisers have also taken the opportunity to use ThinkFest as a platform for introducing startups or new business concepts.
For three of the talks, Bermudian businesses Wild Herbs and Plants in Bermuda and African Kitchen will provide refreshments.
For ticketing and other details, visit think.bm.
Read More About
Category: All