Tonnes of emergency aid supplies were loaded on board a Royal Navy ship bound for the hurricane-ravaged Bahamas, with local truckers volunteering their time to transport the goods, after the massive outpouring of support from the public, who donated so much it filled the ship to capacity.
HMS Protector, the Navy's Antarctic patrol ship, will stop off in the Bahamas with RBR Colour Sergeant Sheldon Fox and National Disaster Coordinator Steve Cosham on board to deliver the massive amount of food, water, hygiene supplies, plywood and other donated items, after local residents went all out with making donations.
Colour Sergeant Fox, student Bandmaster with the RBR Band & Corps of Drums and also trained in disaster relief, said: "It's a bit different from music, but it's part of the versatility we offer to the country.
Governor John Rankin meets Lieutenant Commander Emmanuel Jones, the operations officer on HMS Protector, on the bridge of the Antarctic patrol vessel.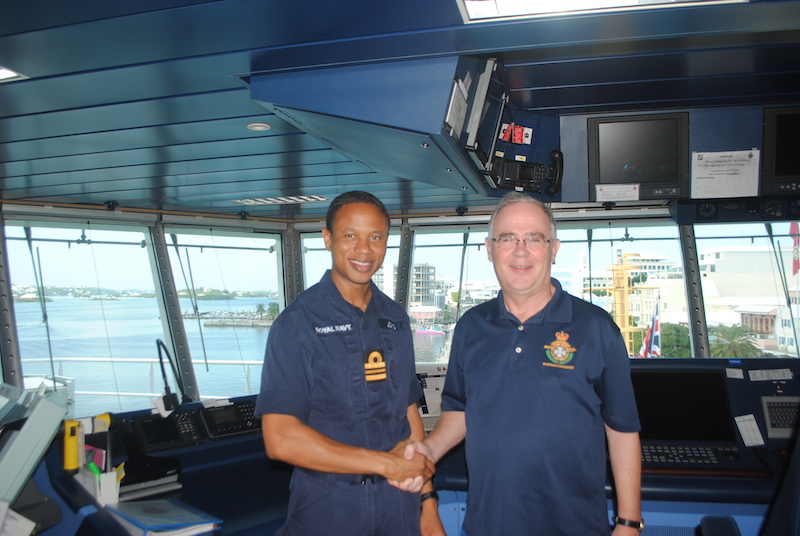 "I'm doing the management and handover of supplies in Bermuda and in the Bahamas to ensure it all gets to the right people."
The 32-year-old former music teacher from Warwick, now a full-time soldier, added: "I wasn't expecting to be doing this this weekend, but it's the nature of the job – we serve the people.
"I'm looking forward to representing the Regiment and Bermuda and helping where I can."
Colour Sergeant Sheldon Fox of the RBR helps sailors from HMS Protector load donated supplies for the hurricane-stricken Bahamas.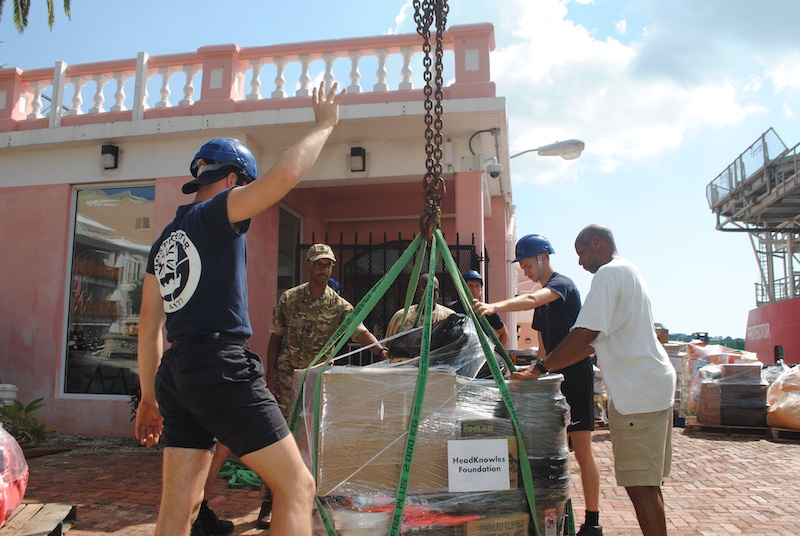 Clr Sgt Fox was speaking as sailors from HMS Protector stowed an estimated 200 tonnes of disaster relief supplies, donated by the Bermudian public and businesses, in its hold before it steams to the Bahamas tomorrow [Sept 9].
Small and large businesses with trucks volunteered their vehicles to transport donations from the main collection centre at the Hamilton Seventh-Day Adventist Church on King Street to the dockside on Front Street.
Soldiers and volunteers had earlier stacked donated goods on pallets and secured them at the church for easy loading on board Protector, which stopped off in Bermuda en route for patrol duty in the Antarctic.
Private Trent-ton Daniels helps load tonnes of emergency aid on board HMS Protector.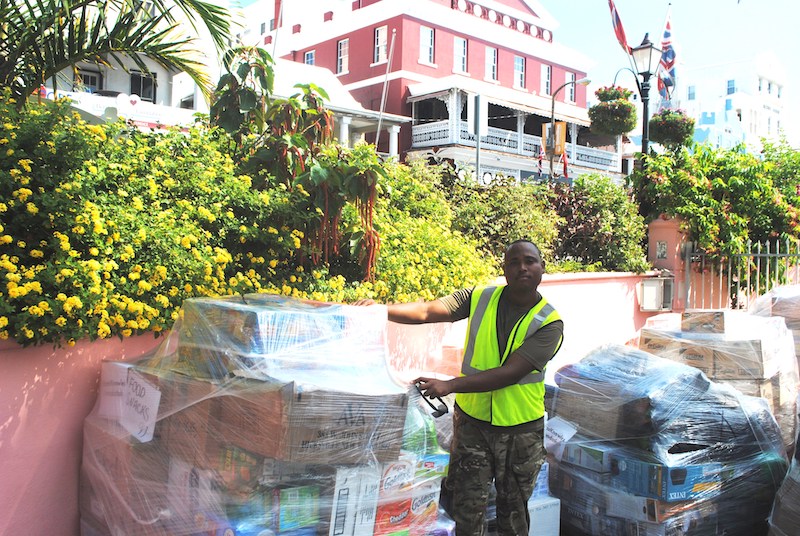 Private Trent-ton Daniels, 22, who worked alongside Protector's crew, said his civilian background as an employee at Price Rite in Spanish Point meant he had experience of forklift trucks and pallet transport.
He said: "The moment they asked me to do this, I was more than willing. I do it for my job and it's great to do it for my country and help out our sister islands as well."
The Abaco Islands and Grand Bahama suffered massive damage after the Category 5 Hurricane Dorian slammed into them last Sunday.
Queues of private trucks, whose owners volunteered to transport relief supplies to HMS Protector, wait their turn to unload.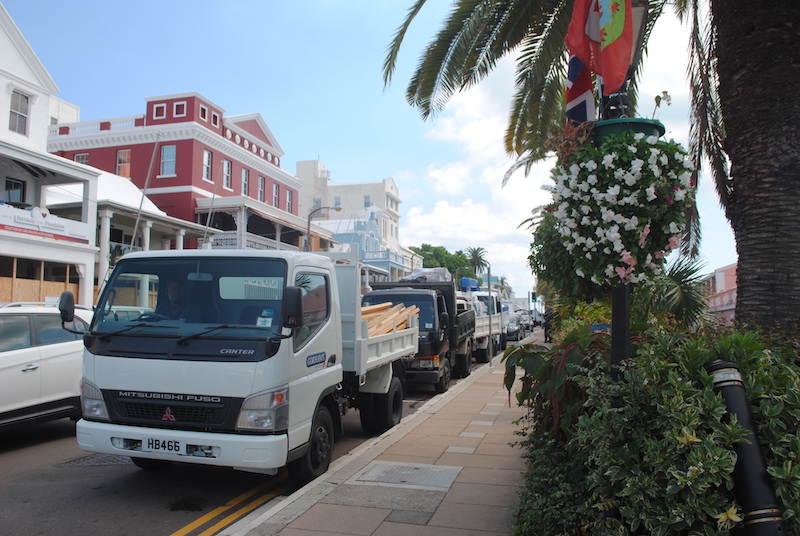 The International Red Cross estimated this weekend that more than 70,000 people had been forced to flee their homes and that 45 per cent of homes in the devastated islands had been destroyed or severely damaged.
Captain Matt Syrett, the Commanding Officer of HMS Protector, said: "We've arrived in Bermuda at an opportune time and we're delighted to be able to assist.
Capt. Syrett added: "We could stay here and load much more because of the generosity of the Bermudian people, which has been very impressive."
Captain Matt Syrett RN with Minister Wayne Caines at the Hamilton Seventh-Day Adventist Church on King Street. Minister Caines recruited his home church as the main drop off point for donations for the hurricane-stricken Bahamas.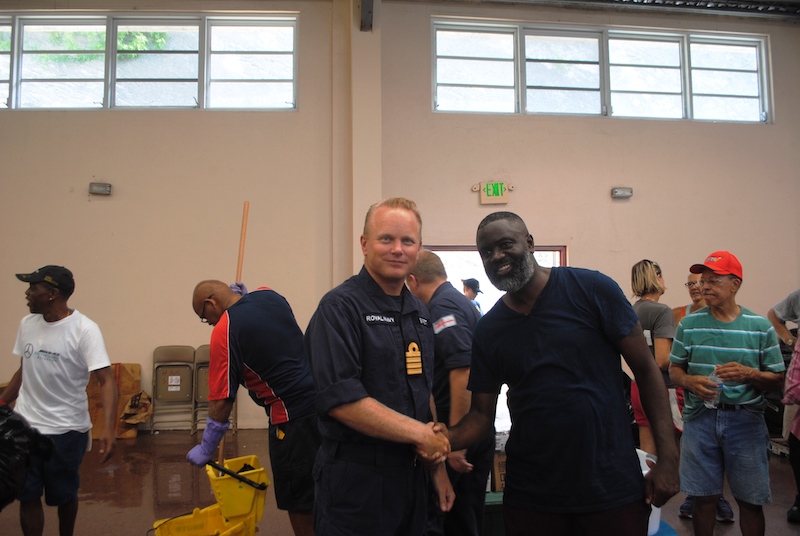 But he said the need for aid in the affected islands was so great, the ship would be most useful by getting assistance there as fast as possible.
Lieutenant Commander Robbie Nash added: "We've all seen in the press the devastation that Dorian caused and we're very proud to be representing Bermuda, the UK government and the Royal Navy. We're glad to help out."
Governor John Rankin, also the Commander-in-Chief of the RBR, dropped off his own donation at the church on Saturday and visited the massive military and civilian effort to pack and move aid supplies today.
He said: "The people of Bermuda have been incredibly generous. I am grateful that HMS Protector, together with the Royal Bermuda Regiment and with support from the community and the City of Hamilton, are loading everything on the vessel so they can take it to the Bahamas and help those who so desperately need assistance.
Manai Roberts, owner of MIR Trucking & Maintenance in Smith's, who donated his time and truck to transport aid supplies for the Bahamas to HMS Protector.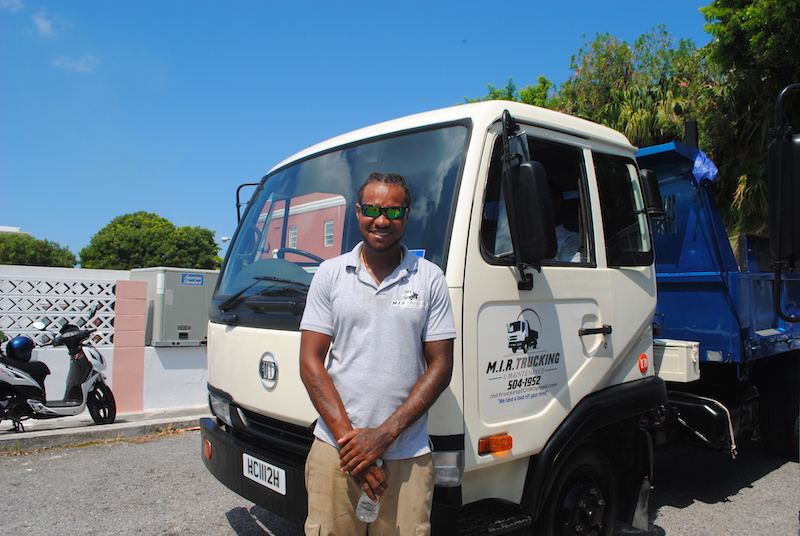 "The international community as a whole is determined to help the Bahamas in its time of need and Bermuda is playing its part in that effort.
"I hope all the material that is coming from here will help get people back on their feet and provide them with what they need to get them through the difficult days, weeks and months ahead."
RBR Commanding Officer Lieutenant Colonel David Curley said: "This is an excellent example of how the RBR can support the civil authorities and work with other armed forces in times of need, at home and abroad.
Lieutenant Colonel David Curley, Commanding Officer of the RBR, and Lieutenant Commander Robbie Nash of HMS Protector as tonnes of donated aid is stowed on board for transport to the Bahamas.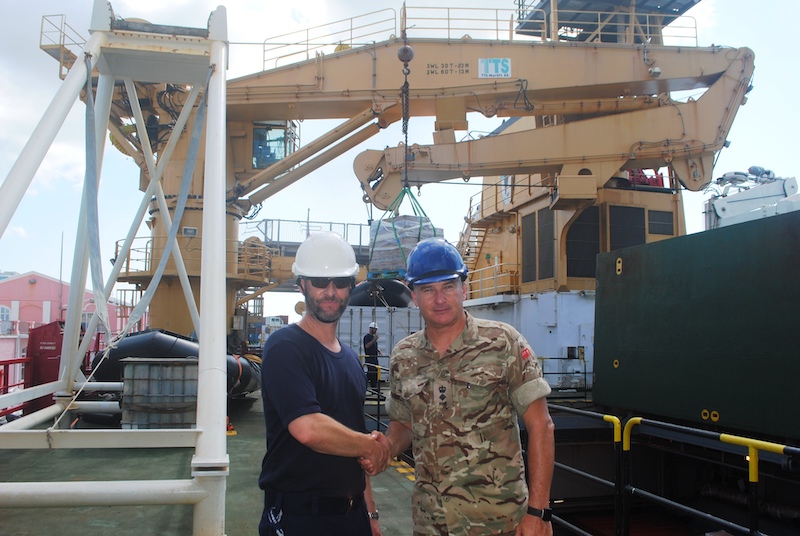 "I am very proud of all the soldiers who turned out at very short notice and threw themselves into the work with huge enthusiasm."
Manai Roberts, of Smith's-based MIR Trucking, was one of dozens who came forward to help transport tonnes of aid to the Navy ship.
Mr Roberts said: "I figured, at the end of the day, if something like that happened to our country, people would do the same for us. I just like to help people and I enjoy doing it."
Read More About