[Column written by Glenn Fubler]
Students from Whitney Institute and Somersfield Academy gathered at the Bermuda Aquarium, Museum and Zoo [BAMZ] on Tuesday afternoon [Feb 4] as a part of a collaboration spearheaded by Bermuda Climate Action Network's Vision 2020 [Bermuda CAN].
The gathering had been weather-delayed from January 28, which was the anniversary of the rediscovery of the Cahow. That iconic moment had taken place in 1951 on a Sunday afternoon and was pulled off by a small team which included 15-year-old David Wingate.
That rediscovery had a transformative impact on David's personal life and it resulted in positive implications for the global effort to sustain endangered species in general.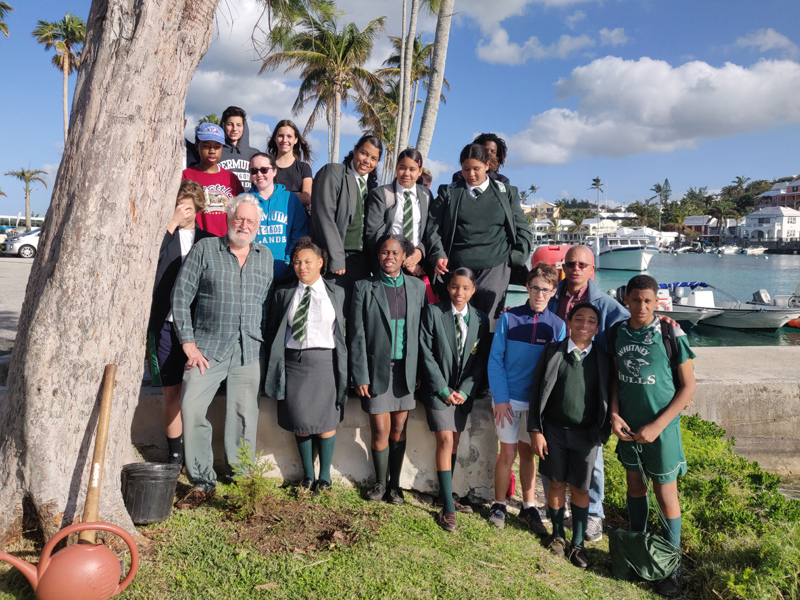 The main feature of the BAMZ visit for the students was hearing directly from David Wingate about that historic find of which he was a part.
A number of students engaged in the discussion were 15 themselves. Dr Wingate was able to share his fears as a teen on that expedition, since at that time he hadn't had much experience in boating.
The presentation went into insights as to why there hadn't been reported sightings of Cahows for decades prior to that January day. David provided a summary of the life cycle of the national bird and his presentation was enhanced by the live stream of a pair of Cahows caring for an egg which had been laid on January 10 on Nonsuch Island, with streaming provided by the CahowCam by Look Bermuda.
Following the presentation, the students were led out to the Aquarium parking area, where they joined in the planting of a Bermuda Cedar, commemorating the rediscovery and supporting Vision 2020's campaign to have 2,020 trees planted by the end of this year.
This, of course, was also led by David Wingate, who has during his lifetime of passion for our island, planted an estimated 1,400 native and endemic trees.
- Glenn Fubler

20 Most Recent Opinion Columns

Opinion columns reflect the views of the writer, and not those of Bernews Ltd. To submit an Opinion Column/Letter to the Editor, please email info@bernews.com. Bernews welcomes submissions, and while there are no length restrictions, all columns must be signed by the writer's real name.
-


Read More About