More than 30 soldiers started two weeks of intensive training at the start of their careers as Royal Bermuda Regiment soldiers.
The island trainees were joined by five Officer Cadets from the new Cayman Regiment, who are in Bermuda to learn as much as possible before they go on to further education at the British Army's Sandhurst training college and become the nucleus of the officer corps at home.
RBR Private David Pinto, 26, said: "It teaches discipline and tactics. I've been in university and I've just finished, but I've always liked military things and I'd like to apply to become an officer later on."
Soldiers of the new Cayman Regiment after their first dinner in uniform at the Warwick Camp canteen. From left are Theodore Kelly, Jonassi Swaby, Shanice Kelly, Halston Farley and Gabe Rabess.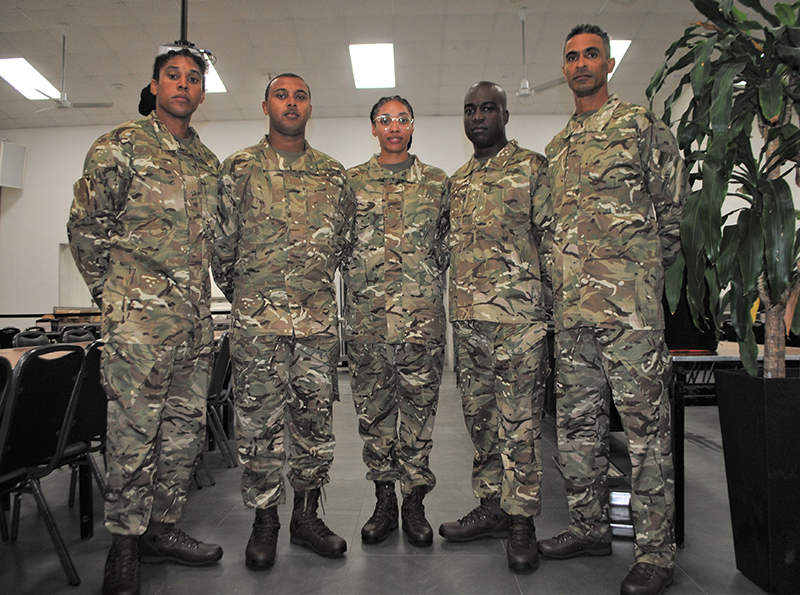 The information technology specialist at Ascendant added: "I'm here to improve my discipline so anything that does that, I'm looking forward to. I'm hoping it will help build my character.
"It's a good way to prove you can surprise yourself, go further than you thought and go beyond."
Private Matthew Daniel, 18, said: "I joined for the financial benefits, but also for the new experience and meeting other people.
"I also want to help Bermuda and give back for all the things it's given me. I did the Junior Leaders programme when I was younger, so I'm used to the format and how they do things."
 New soldiers Private Daniel Pinto and Private Matthew Daniel on their first day in uniform at Recruit Camp.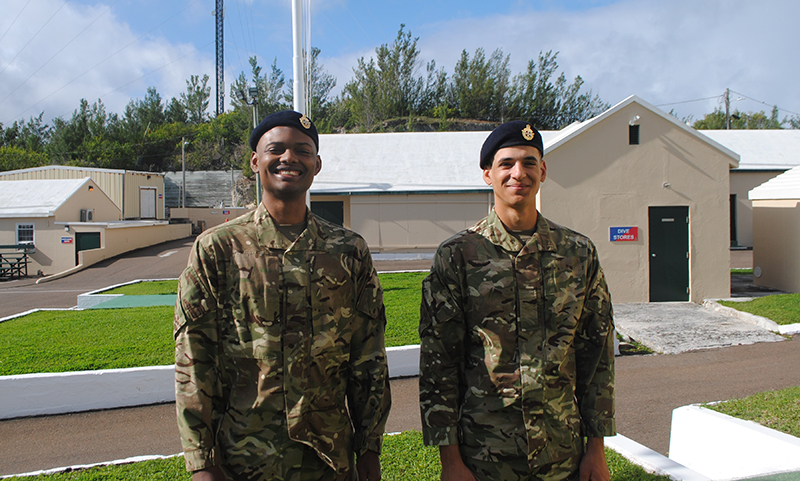 Corporal Dijon Arruda, a five-year veteran of the RBR and an instructor for the two week Recruit Camp, said: "It's so far, so good. I like the enthusiasm I've seen. Some are a little nervous, but that's typical."
The 31-year-old from Warwick added: "I'm excited to be training the new Cayman Regiment as well."
Cayman Officer Cadets Halston Farley and Gabe Rabess, who will go through basic training with RBR soldiers, said they were happy to be in Bermuda.
Officer Cadet Farley, 35, a primary school teacher from Bodden Town on Grand Cayman, said: "I'm looking forward to seeing how things are done here because we have to go back and start our regiment up."
O/Cdt Farley, who has some previous military experience in Barbados and was Regimental Sergeant Major in the Cadet Corps in the Caymans, added he would welcome the "adventurous activities and re-familiarisation with the weapons system" in his time in Bermuda.
Cayman Regiment Officer Cadet Halston Farley checks out his new equipment as he and four others from the new service start training with the RBR at Warwick Camp.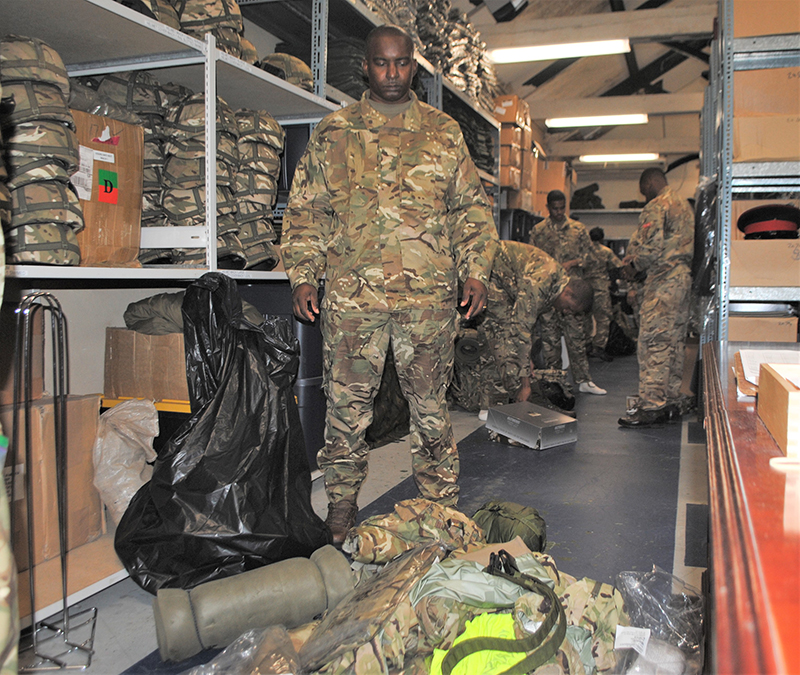 Gabe Rabess, 48, from George Town, said he was a police officer in the Royal Cayman Islands Police Service and an ex-firefighter in London so his previous training had prepared him for the rigours of military life.
O/Cdt Rabess added: "I'm not really nervous. I'm looking forward to the weapons handling and map reading because I haven't done that for a while."
He added: "Bermuda is lovely. It's a beautiful place – clean, although it's a bit cold for us."
Cpl Arruda, who works in purchasing at the Hamilton Princess Hotel, added it was "a privilege" to get the opportunity to help train overseas soldiers.
He added: "At the same time, it shows what the RBR can produce, not only for our own, but from others looking for that kind of training.
"All going well, and it should, there will be other Overseas Territories looking to start a regiment and I would be happy to be a part of that package."
RBR soldiers are expected to complete 30 days of service a year, including a two week training camp, usually overseas, as well as regular nights and weekends and earn about $5000 in their first year.

Read More About