Dr. Pauulu Kamarakafego [Roosevelt Brown]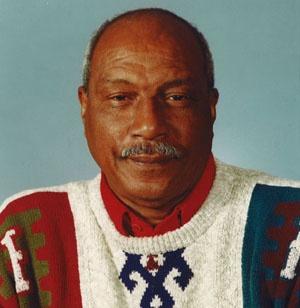 Dr. Pauulu Kamarakafego was political activist, civil rights leader, parliamentarian and world recognized expert in ecological/environmental engineering.
Born Roosevelt Brown on November 28, 1932 in Middletown, Pembroke, he later changed his name to Pauulu Roosevelt Osiris Nelson Brown Kamarakafego.
He attended Howard Academy in Bermuda [a now defunct school which was located on Roberts Avenue] and went on to New York University, University of South Carolina, North Carolina University and obtained his doctoral degree in Ecological Engineering from the California Institute of Technology in 1959.
Locally he is best remembered for his work with universal adult suffrage and organizing the Black Power conference of 1969. He was a Member of Parliament in the late 1960s and 1970s
Internationally he was an expert in his field, working with various governments as well as the United Nations.
In his own words from his autobiography 'One Me':
"I learned at a very early age that whatever knowledge I acquire from society does not belong to me. Therefore, my philosophy in life is that we should always give back to society wherever we are – be it Bermuda or some other place in the world. Giving back can be in many forms, e.g., teaching, informing the public of their rights and working with them and volunteer work."
He was internationally recognized as an expert in his field, and served in various high level capacities including:
Head of International Network of Small Island Developing States of NGOs and Indigenous People
United Nations consultant on rural development and renewable energy sources.
Consultant on Global Sustainability to the EEC and the Commonwealth Fund Rural Development Program.
Chief executive officer of the Pan-African movement to the United Nations
Served on the executive advisory board of the W.E.B. DuBois Foundation
Advisory board member of the Center for Development of International Law in Washington, D.C.
Served on the executive and steering committees of the UN Commission on Sustainable Development.
Two of his designs [1959: building a water tank and 1976: construction with local materials] were selected in 1996 from among thousands of entries by the United Nations Conference as examples of '100 Sustainable Ideas for Human Settlement'.
He received numerous awards including:
1964 Outstanding Faculty member, University of East Africa, Kenya
1981 Citizen's Independent Medal [for assisting the Republic of Vanuata on the road to independence]
1987 Outstanding contribution to Universal Adult Suffrage in Bermuda [from the Anti-Apartheid Committee]
1987 Outstanding contribution to Universal Adult Suffrage in Bermuda [from Friswell Hill United]
1992 One of the first recipients of the Outstanding Human Rights Award [from the Human Rights Commission of Bermuda]
1996 One of the recipients of the "Best Practices for Human Settlements" awards presented in Istanbul
2002 Recipient of an award as an Eminent person in Algeria [from the Non Governmental Steering Committee to the United Nations]
2002 Recipient of the National Association for reconciliation annual award for leadership in achieving Universal Franchise for all Bermudians.
2002: Listed in Who's Who in the 21st Century for Outstanding Achievements in the Field of Ecological Engineering, International Biographical Centre, Cambridge, England
Dr Kamarakafego was reported to have a number of children across the world:
Suzanne Darrell [Bermuda]
Wendy Browne [Canada]
Ghrandu, Moulbo and Flumo Kamarakafego [Liberia]
Tchilumba Kamarakafego [Congo]
Keibu and Ronniba Kamarakafego [Kenya]
Baizum [Vanuatu]
Carla Kamarakafego [Nicaragua]
Catherine Mckinley [Costa Rica]
Mahatma Kamarakafego [Nicaragua]
He passed away in April 2007 at age 75. The Bermuda Cabinet held a minute of silence and all flags on Government buildings were flown at half mast.
At his memorial service former Premier Dr Ewart Brown eulogized him saying:
The Bermuda of the 1950's and 60's regarded the concept of one man one vote as foreign and almost a descent into anarchy. The mere suggestion of Universal Adult Suffrage was met with scorn by the slave and master alike. To say that it took courage to advance this cause would be a gross understatement.

This was a Bermuda in which the terms coloured and white denoted far more than race but indicated seating arrangements in public places, employment opportunities, standards of healthcare and life in general.

Enter Roosevelt Browne. With an uncanny desire to achieve equality in the land of his birth, Pauulu set about the Herculean task of not only challenging the existing oligarchy but of persuading a passive people to take up their birthright.
Video bio of Dr Kamarakafego is below, courtesy of CITV: