Patrick Singleton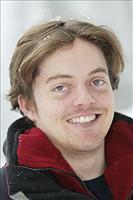 Patrick Singleton is one of only three Bermudians to ever represent Bermuda at the Winter Olympics [along with Simon Payne and Tucker Murphy].
The son of Derek and Sallie Singleton of Southampton, Mr. Singleton was born October 15, 1974. Coming from an athletic family, his father Derek was a tennis pro in Bermuda who competed internationally for Northern Ireland in tennis, badminton and fencing, and later for Bermuda in rugby and tennis. His mother, Sallie, danced for the Royal Ballet, the principal British ballet company.
The 5ft 8" 157 lbs athlete started competing in the late 1990s initially in the luge, later switching to the skeleton.
Patrick Singleton's Olympic appearances:
• 1998 Olympics [Nagano, Japan], placing 27th in the men's single luge
• 2002 Olympics [Utah, USA], placing 37th in the men's single luge
• 2006 Olympics [Torino, Italy], placing 19th in the men's skeleton
At the 2002 Winter Olympics held in Utah, Mr. Singleton gained international attention not only for being a "one man team" as the sole representative for our country, but for wearing Bermuda shorts in sub zero temperature – the only athlete to do so.
The International Olympic Committee [IOC] later requested Mr. Singletonshorts be given to the Olympic Museum in Lausanne, Switzerland where they still hang.
Mr. Singleton's shorts later lead to him to being featured as a question on the popular American game show 'Jeopardy!': "Who was the only Winter Olympic athlete at the Salt Lake City Olympics who wore shorts at the Opening Ceremony. Name the country that Patrick represented?" The contestant incorrectly answered Luxembourg.
He was also featured in an international television commercial for computer giants IBM which ran during the 1998 Olympics. Filmed in Bermuda, the commercial featured Mr. Singleton speeding down the Airport runway on his luge, and at other locations including Horseshoe Bay and Church Bay.
Giving Bermuda our first ever medal in a luge event, Mr. Singleton once won a bronze medal at the Nations Cup Luge Championship in La Plagne, France. This lead to an uncomfortable incident for the officials, as they did not have a Bermuda flag to raise on the podium. The officials raised the flag of the International Luge Federation instead.
A former student of The University in North Carolina and a professional journalist by trade, Mr. Singleton has worked as a reporter/producer in Tokyo, Japan for Bloomberg Television and now resides in London.
After the tragic death of a 21 year old luger at the 2010 Olympics, Mr. Singleton was interviewed by various media outlets in Britain, and made strong statements about the design faults of the track.
Photo below shows Mr. Singleton competing at the 2005 World Skeleton Championships in Canada. [Photo Charlie Booker]