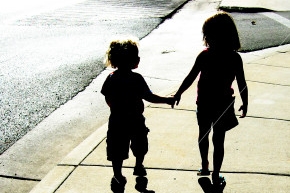 In a chilling statement that needs no elaboration, we received reports that right before 35 year old Kimwandae Walker was fatally shot, he was screaming "move my kids".
Mr Walker was attending a 'family fun day' with his two young children at Victor Scott school field on Good Friday [April 2] and was gunned down in broad daylight.
Mr Walker was reportedly flying a kite with his children when at around 2pm two men on a motorbike burst onto the field and opened fire at him, firing multiple bullets as he tried to flee and get his children to safety.
His son Kwinjae is 9 years old, and his daughter Kimjaela is 4 years old. The two children are reported to have ran and hid behind playground equipment after the shooting. We understand that his son ran over to his father post shooting, while he was laying dying.
Bernews understands that Mr Walker died at the scene, in front of his two children. See here for full details of the shooting.
The Police contact details are below:
Contact the Serious Crime Unit on 299-8115
Contact the independent 24 hour confidential Crime Stoppers Bermuda hotline on 800-8477.
Send an anonymous tip via the Crime Stoppers Bermuda website crimestoppers.bm
Read More About