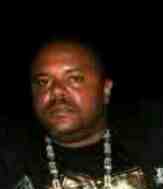 The Bermuda Police have announced the arrest of two men in relation to the brazen daylight shooting of Kimwandae Walker during a Good Friday family fun day on April 2.
The suspect has not been named, and the police declined to release any more information, saying "they become targets".
The police held a press conference this afternoon [Apr 4] and brought out all the brass; with Minister of Public Safety Senator David Burch, Acting Commissioner of Police Michael Jackman, Superintendent Antoine Daniels and Acting Governor David Arkley all present.
The Police confirmed that around 2pm during the Good Friday festivities [April 2] at Victor Scott field, two men on a bike wearing full face visors rode onto the field, jumped off and opened fire killing 35 year old Kimwandae Walker almost instantly. Bernews understand that Mr Walkers two young children witnessed the whole thing.
A forensic pathologist will arrive on the island tomorrow to conduct the autopsy.
The manner of the killing, in particular the fact it was done in front of numerous children at a family event, has drawn extreme outrage from almost all sections of the community.
All of Bermuda's political parties have issued statements, with the BDA saying "It's not a back of town problem", the UBP saying "We are well passed enough is enough", and the PLP saying "we have reached a tipping point". The Government has also extended free counselling services to those who may be traumatized by witnessing the tragedy.
Video of the Police Forensic Unit searching the scene following the shooting:
-
Suspects were also arrested very quickly after the last two shootings, however were released on police bail after approximately four days in both circumstances. The two suspects in the March 27 Jakai Harford shooting, 18 and 23 year old Pembroke residents, were arrested then released on police bail a few days later – as was the suspect in the James Lawes murder.
Read More About