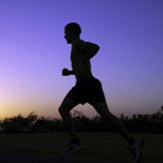 Around 6pm yesterday [May 19] a man escaped from Police on foot after crashing his bike into a car.
A police vehicle was traveling along Middle Road in Warwick when they saw a young man riding a motocross cycle on the road without a helmet.
When officers attempted to pull the man over, he starting speeding towards Somerset and proceeded to collide with a car at the junction of Middle and Greendale Lane.
He got up and fled on foot heading back towards T. N. Tatem Middle School, while the Police chased him, also on foot. The suspect managed to elude the police, and escape, although the motocross cycle was impounded by Police.
He is described as a light skinned male, approximately 5'5" tall with low cut black hair, and is believed to be in his teens or early 20s.
The driver of the car involved in the collision, a 71 year Southampton woman, was fortunately not injured, however the car received rear end damage.
Police are appealing for any witnesses to this incident or anyone with any information to contact the Somerset Police Station on 234-1010.
Read More About