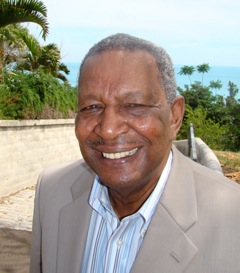 Former MP Erwin Adderley is making a comeback, and was introduced today [May 20] as the United Bermuda Party [UBP] candidate for Pembroke West, Constituency 19.
Mr. Adderley said he was returning to politics as is deeply concerned about the direction Bermuda is heading with unchecked violent crime, continuing failure to reform education, collapse of our tourism industry and the massive growth in public debt.
He said he intended to restore stronger communication between the people and their elected representative, and to help fashion national solutions to longstanding problems.
Mr Adderley previously served as an MP from 1997-2003, including service as Minister of Transportation and spent 22 years as Director of Planning. In 2003, the selection committee opted for Jamahl Simmons, the present press secretary to the Premier, over Mr Adderley to run for the election.
The district is considered by many to be a UBP stronghold, and the present MP for this constituency is Shawn Crockwell of the Bermuda Democratic Alliance [BDA], whom we understand will contest the seat in the next election. Although presently a BDA member, Mr Crockwell was originally elected to the seat as a member of the UBP and left in 2009 to form the BDA.
UBP leader Mr. Kim Swan [pictured with Mr Adderley] spoke of Mr. Adderley's his life-long roots in Pembroke, his extensive governmental, political and business experience and his commitment to serving the people of the community.
This is the second candidate announcement from the UBP this month, both who happen to be former UBP MPs, with the UBP announcing Allan Marshall as the Hamilton South candidate on May 4th.
Following is the full text of a Pembroke West newsletter announcing Mr. Adderley's return to politics:
Erwin Adderly is back as the United Bermuda Party representative for Pembroke West, Constituency 19.

Erwin was first elected to Parliament in a 1997 by-election, replacing Dr. David Dyer as the UBP representative in the then dual seat constituency of Pembroke West, which today is made up primarily of constituencies 19 and 20. Erwin won again in 1998 and represented the constituency for five years.

In the 2003 General Election – the first held under single seat constituencies – Erwin decided not to run in either 19 or 20 but chose instead to contest constituency 18, where the Adderley family home is located. That bid did not succeed and Erwin left day-to-day politics to concentrate on running Erwin P. Adderley Associates Ltd., his successful planning, design and development consultancy business.

But Erwin did not retire from politics. He remained keenly interested in the affairs of Bermuda and those of Pembroke West, where he has lived since 2005 when he moved back to the family home at 7 North Court Avenue.

Erwin has remained in touch with people because of his deep roots in the community and because he believes people need a representative they can count on, who can speak clearly and forcefully for their concerns and to fight for them when necessary.

Erwin also decided to get back to Parliament because he is deeply concerned about the direction Bermuda is heading with unchecked violent crime, the continuing failure to reform education, the collapse of our tourism industry and the massive growth in public debt.

He knows many people are equally concerned with this downward turn for Bermuda and wants to make sure government reverses it through positive, effective policies.

But it all begins in the constituency where Erwin believes a Member of Parliament's first duty is to the people he or she represents – staying in touch, keeping an ear to the ground and being available at all times. To that end, Erwin will re-institute monthly "Saturday morning clinics" to give constituents a fixed time and place to discuss what's on their minds. He also intends to bring a stronger focus to the needs of Pembroke West through close work with local activists on specific plans to meet social needs and advance community projects.
Read More About