The Bermuda Regiment held their annual 5 Mile Run and 3 Mile Fun Walk on Sunday May 9, and it saw veteran local runner Jay Donawa win the event in 26:20, with Jennifer Alen the first female across the line in 33:15 in 9th overall. Stephen Allen and Russel Ascento rounded out the top 3
Mia Pauwels was the first across the line in the walk in 35:49, with Gilda Cann and Lauretta Stoneham rounding out the top three.
The Regiment has hosted the race for approximately thirty years, and its signature touch is the full codfish breakfast afterwards.
Jennifer Alen approaching the finishing line: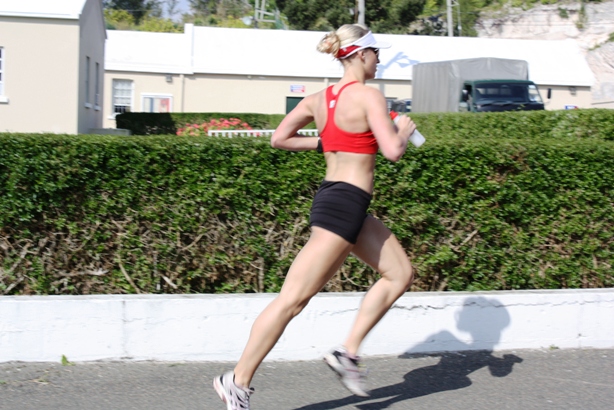 5 Mile Run Results
1 Jay Donawa 26:20:00
2 Stephen Allen 29:03:00
3 Russel Ascento 30:52:00
4 Curtis Hawksworth 31:13:00
5 Nick Strong 31:27:00
6 William Wood 32:28:00
7 Andy Starr 32:59:00
8 Chefton Hall 33:12:00
9 Jennifer Allen 33:15:00 [first female]
10 Jason Trueman 34:03:00
11 James Keyes 34:49:00
12 Mike Osborn 35:01:00
13 Nikki Bascome 35:32:00
14 Jay Johnston 35:42:00
15 Richard Fulton 36:08:00
16 Darin Cassidy 36:45:00
17 Kenneth Thompson 36:53:00
18 Will Peckett 36:57:00
19 Eddie Fisher 37:08:00
20 David Brown 37:21:00
21 Gareth Dixon 37:43:00
22 Deborah Blaxell 37:48:00
23 Salvatore Bartoletti 38:08:00
24 Sean Kelly 38:25:00
25 Ian Fulton 38:48:00
26 Earl Godfrey 39:18:00
27 Frank Ming 39:44:00
28 Shawn Simmons 40:05:00
29 Laura Keyes 40:20:00
30 Twilton Hardtman 40:45:00
31 Vanessa Madeiros 40:47:00
32 Edward Harris 41:05:00
33 Kimiko Scotland 41:34:00
34 Odilio Angeli 42:25:00
35 Rene Minks 44:30:00
36 Patrick Outerbridge 46:39:00
37 Gavin Lee 46:56:00
38 Paul Singh 47:02:00
39 Zina Jones 48:07:00
40 Shahidah Shamsid-Deen 48:30:00
41 Darnell Wynn 48:44:00
42 Tyneisha O'Connor 48:54:00
43 Grant Muirhead 49:00:00
44 Robin Holder 49:09:00
45 Amanda Outerbridge 50:16:00
46 Caroline Dyer 51:01:00
47 Marie Crewe 51:08:00
48 Sharon Crewe 51:08:00
49 Alison MacDonald 51:14:00
50 Gavaska Lodge 51:57:00
51 Elvin Thomas 52:05:00
52 Susan Molineux 56:23:00
53 Paul Harney 56:54:00
54 Christine Joell 57:43:00
55 Dollita Smith 58:50:00
56 Myron Smith 58:51:00
57 Timothy Molineux 1:02:37
58 Dave Josselsohn 1:03:49
59 Peter Furbert 1:04:45
3 Mile Walk
1 Mia Pauwels 35:49:00
2 Gilda Cann 37:13:00
3 Lauretta Stoneham 37:13:00
4 Susie Bradshaw 40:26:00
5 Edward Van-Lowe 41:13:00
6 Paul Spring 41:38:00
7 Anna Fulton 41:53:00
8 Angie Brown 42:21:00
9 Rebecca Carne 43:08:00
10 Barbara Fullerton 43:30:00
11 Shirene Fulton 44:04:00
12 Erica Fulton 44:05:00
13 Sherwyn Richardson 45:32:00
14 Gerald Swan 48:34:00
15 Judy Gonsalves 48:47:00
16 Brain Gonsalves 48:48:00
17 Janeek Providence 50:36:00
18 James Van-Lowe 50:37:00
19 Karen Ming 54:33:00
20 Beverley Tavares 54:34:00
21 Chantal Josselsohn 57:06:00
22 Brita Oosthuizen 57:06:00
23 Elizabeth Tatem 1:16:20
24 Carmen Trott
Read More About