This evening [Sept 9] PLP Leadership hopeful Terry Lister held his sixth town hall at St Mary's Church Hall in Warwick, focusing on the subjects of labour and immigration.
Mr Lister said that right now, according to the information that he had, that Bermuda had about 1,600 people who were either unemployed, under-employed, or working shortened workweeks.
He said that this was happening in an Island economy where there were 27,000 Bermudians working with 12,000 non-Bermudians working alongside them. That in all the rest of the world, this kind of national workforce balance was unusual and unique. He said that except for the current high unemployment rate for Bermudians, Bermuda's economy has had this kind of parallel workforce situation for decades.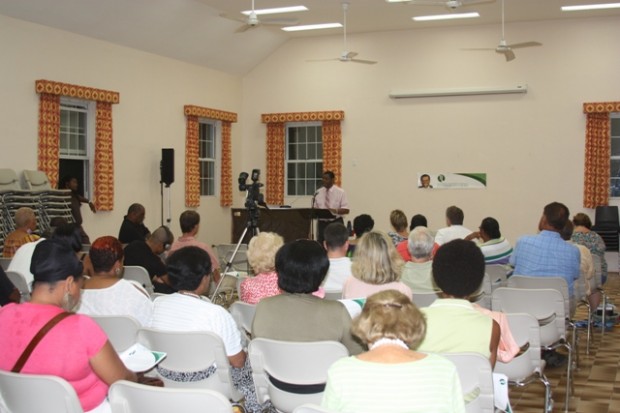 He said as a man with business experience he understood that when a Bermudian worker worked 'short weeks', Belco didn't respond by sending him short electricity bills, and supermarts didn't shorten their prices.
He spoke of the need to encourage young Bermudians to get off-island work experience; and he recognized that getting bright young Bermudians into entry level jobs was a problem, and needed to be addressed.
He said that when considering the unique circumstances of the Bermuda workplace, the special, unique, and key requirement is to have a national education and training system and process that ensures that young Bermudians can get the best and better jobs in Bermuda so that they can earn the higher incomes that will enable them to enjoy an earned Bermuda life-style.
In taking comments from the floor, Mr Lister heard from a member of the approximately fifty strong audience that there were hundreds of 'disconnected Bermudians' who could not fit into the Bermuda workplace. Mr Lister agreed and pointed out that this was a national problem and not confined to just 'young black males' because it affected young white Bermudians as well. Fixing the problem required training and education.
When asked how Bermuda could sustain itself and whether sustaining meant continued growth; Mr Lister responded that Bermuda and Bermudians had to make a major national decision. "Did Bermuda want to be like Hong Kong with high-rises everywhere and everybody jammed into Hamilton? Or did Bermuda and Bermudians want to keep Bermuda much as it is now?"
Mr Lister said that the way to deal with this issue was to have public discussions of the kind that he was having now, and not have the decision taken, in isolation, by a small group that meets every Tuesday.
This was the sixth of Mr Lister's Town Hall series. The first Town Hall Mr Lister held was on the Economy, the second on Energy and the Environment, the third on Crime and Violence, the fourth on Tourism and Transport and the fifth was on Sports and Culture.  The next town hall meeting will be on Thursday 16th September at the Hamilton Parish Workmen's Club at Devil's Hole.
Mr Lister, Deputy Premier Paula Cox and Dale Butler, are all seeking the leadership position of the PLP which is expected to become available next month upon the retirement of Premier Dr Ewart Brown.
Mr Lister's full speech follows below:
Good evening ladies and gentlemen. Welcome to our sixth Town Hall meeting. Tonight the focus is on Labour and Immigration-Offering more opportunities for Bermudians. This speech is timely as we celebrated Labour Day on Monday after having a five page feature on Labour issues in the Bermuda Sun last Friday. I commend the Sun for tackling this very difficult issue for Bermuda.

We all remember not too long ago when every Bermudian who choose to work did so, with many working at two jobs. Unemployment was a concept that people in other countries had to struggle with but not us Bermudians. Well, we now have to face the unemployment issue just like people do all around the world. It was recently reported that our unemployment had reached 1,600 people. It is unknown how many have lost their second job while the number of Bermudians working reduced hours is also an unknown. However unknown as they may be, these last two categories are particularly bothersome for us. Certainly we are at a crisis. This crisis needs attention short term as well as long term fixes for our people.

In this same issue of the Bermuda Sun reference was made to certification of tradesmen. This is something that as Minister responsible for the National training Board (NTB) I pushed hard for. I believe that certification in all appropriate skilled areas will help the Bermudian worker to prove his/ her worth and to thus command a job commensurate with his talent and experience.

I also believe certification will protect the consumer from unskilled tradespersons claiming to be more skilled than they are.

While there is much more to be done, the NTB has made great strides towards training Bermudians for skilled jobs. As leader of the Bermuda Progressive Labour Party, I will, in these difficult economic times, increase the funding to the NTB as these monies represent an investment in our people. The fastest area of job growth today is technical jobs so we must train in this area.

We must tie the technical programs in our senior,and even middle, schools to the needs of the workplace. The opportunities must exist for all who are interested. We must not direct a certain type of student to the trades but must allow students to follow their interests. Thus I will ensure that as curriculum is being designed for our school system, it is what is needed for future workplace success.

NTB has many Occupational Advisory Committees(OACs). Employers must continue to support these and provide their expertise to assist in developing programs and pathways to success. The employer must commit to getting their staff trained and in cases where the employee must go off island for training the employer must support financially.

NTB has established a long list of relationships with technical institutions which must be constantly evaluated to ensure our Bermudians get the best educational opportunities.

As many people come to work in Bermuda to fill jobs that no Bermudian is deemed to be suitably qualified for at the time, every effort must be made to tie training to the Immigration Department granting of work permits. As Bermudians become suitably qualified they should move into the job that needed a work permit holder previously.

If Bermudians believe that they will move up due to training, a number of benefits will ensue. First, they will take the training seriously and learn all they can. Second, they will feel positively towards our two pillars of Tourism and International Business. Third, they will not participate in the negative comments about these industries. So the companies can help themselves all round by fully supporting training for Bermudians.

Fully qualified Bermudians must hold positions equal to those held by non-Bermudians. In fact, the wise employer should favour the Bermudian over the non-Bermudian as the Bermudian is not subject to any Immigration controls!! As Government leader, I will seek to ensure that qualified Bermudians are treated fairly and justly in the workplace.

One factor which has contributed to equally qualified Bermudians and non-Bermudians having income differences is ongoing training. In some cases, companies have offered more training opportunities to their non-Bermudian staff than to the Bermudians. Again this is a factor which we will closely monitor and, if need be, address at the time of application for work permit renewals.

One of the best training opportunities for Bermudians in many job categories is off island placements. As leader of the PLP Government, I will encourage companies to send Bermudians overseas to work and grow. This applies equally to accountants and bankers as it does to chefs and bakers. Off island work experience will serve to clearly illustrate to the worker the international standard that we must strive to reach.

One of the challenges that the economic system has not reacted to very well has been the return of young Bermudians to the Island with their brand new university degrees. Government has operated a successful summer employment programme for quite a number of years. However it is not designed to absorb all summer students into the Civil Service upon graduation. Thus our young need an avenue to ensure they are hired and given a start to their career.

Working with the private sector, the Labour and Training Department will be asked to determine the number of entry level jobs that are available for graduating students. This will help guidance counsellors and personnel managers to work together to secure the bright young Bermudians needed by industry.

Working together in this manner can also assist students with both the selection of university to attend as well as which program of study to undertake. With a 30% overemployment statistic, we simply cannot have a situation where young Bermudians are forced to work outside of their area of study and at much less senior positions than their skill set warrents. Should we find that there is an ongoing problem, consideration will be given to requiring companies to hire university graduates as understudies for specific jobs.

Work permits and term limits are guaranteed to get agreements started. There are many who feel that the term limit policies associated with work permits are far too generous and there are as many who believe that they are too restrictive. Whenever I hear that work permit/term limit argument I am drawn back to why term limits were established in the first place.

Term limits were put in place to prevent the permanent disenfranchisement of qualified Bermudians and to ensure that non-Bermudians did not develop the expectation of a legal right to stay in

Bermuda based on length of time they had been here. Thus the PLP government policy offered key man status along with good corporate citizen status. The employers have made good use of these policies to have their key people for additional time.

Within the whole policy was the idea that opportunities for Bermudians would be maximised. This takes us back to training and development. As Bermudians provide the level of performance required by these senior jobs the pressure for extensions and exemptions will lesson. It is important to Bermuda that every qualified Bermudian is considered by the employer to fill vacancies as they arise. To this end, we will create an employment registry where locals can register on- line their skills and qualifications. This is the opposite of an unemployment register. In this instance the individual will register himself showing the experience that he brings.

With 1600 unemployed Bermudians a review of closed categories will be done and an examination of other categories to consider whether additional categories should be closed to work permit holders. Once in place this review should be carried out formally on an annual basis.

An additional means of encouraging Bermudian employment, and at the same time increasing Government revenues, is varying the cost of work permits. It makes no sense for the fee to continue to be the same for a pot washer and a CEO of a large reinsurance company.

My administration will implement a simple fee structure that would encourage companies to hire from abroad for those jobs that really need to be filled from overseas. This approach would further encourage the development of skilled Bermudian workers. This, in turn, would leave certain jobs such as pot washers totally for work permit holders. By making the structure as simple as possible small businesses would not be overburdened by the cost or the process.

Before closing let me state that I fully support the recent move by the Immigration Minister to refuse new permits in certain job categories. Too many unemployed Bermudians are looking at non-Bermudians working at jobs they believe they can do. The presence of work permit holders was always supposed to be that lever that made it possible for Bermudians to keep working during the bad times while the permit holders went along home. With 1,600 unemployed Bermudians the Ministry has done the right thing. It is now up to the Bermudians who secure new jobs to work hard and effectively and thus show the employer that they can produce at the same rate as the worker who has gone home.

Our Bermuda can be enjoyed by both Bermudian and non-Bermudian alike. It is necessary however for all of us to do our part. This includes Government which must set the policies and administer them, the employer who must embrace the policies and the staff who must respect both the policies and the employer and give a high quality performance day in and day out. And we must do this because It's Bermuda's Turn.
Read More About