Yesterday afternoon [Nov 1] Neletha Butterfield was sworn in at Government House, returning to Cabinet, albeit in a different capacity. She served as Minister of Culture & Social Rehabilitation under former Premier Dr Ewart Brown, and has now been appointed as Minister of Public Information Services.
She initially represented the PLP in the Pembroke West Central constituency as a candidate in the 1993 General Election, and was appointed to the Senate on October 8th, 1993, where she was opposition spokesperson for the ministries of Education, Community and Cultural Affairs, Youth Development, Sports, Parks and Recreation and Women's Issues.
Minister Butterfield has represented the PLP in the House of Assembly since 1998. In addition to Culture & Social Rehabilitation, her former ministerial appointments include Environment, Education & Development, and Environment, Telecommunications & E-Commerce.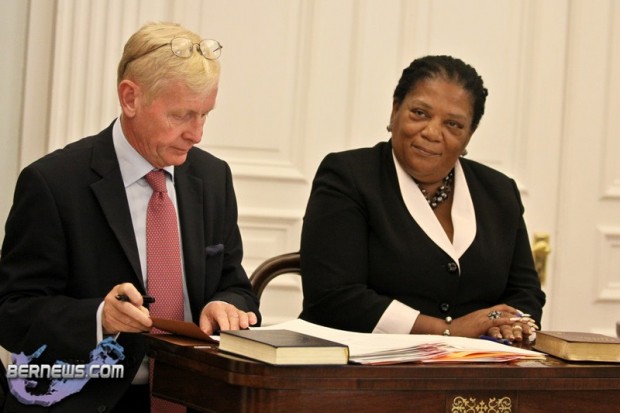 She is the founder and former director of C.A.R.E. Learning Centre (Children and Adults Reaching for Education), an academic and learning centre that was created in November 1983. She is a computer education consultant, and a former computer lecturer for the Government Community School as well as a former computer, English and mathematics lecturer at The Bermuda College. In addition, she is a former instructor of mathematics, reading and African studies with the Bermuda Correctional Facilities as well as being a former instructor for the GED programme which she introduced to the prison system in 1984.
A mother of three and a grandmother, Minister Butterfield is the President of the Bermuda Business and Professional Women's Club, co-founder of Prison Fellowship Bermuda, a founding member of S.T.A.R. (Supportive Therapy for Aids Victims and their Relatives), Past Vice-President of the Orchid Charity Club, a steward and former coordinator of both the singles and prison ministry and a former trustee at St. Paul A.M.E. church. She is also a past chairman of both the Treatment of Offenders Board and the Historic Building Advisory Committee and a former commissioner of the Board of Telecommunications.
Below Minister Butterfield is sworn in:
You can view more videos/bios of the 2010 Cabinet appointees by clicking here.
Read More About