Yesterday afternoon [Nov 1] Walter Roban was sworn in at Government House, making a return to Cabinet. Under Dr Brown, he held the position of Minister of Health, which is now held by Minister Zane DeSilva. Yesterday Minister Roban was appointed as Minister of the Environment, a portfolio which was previously joined with Sports.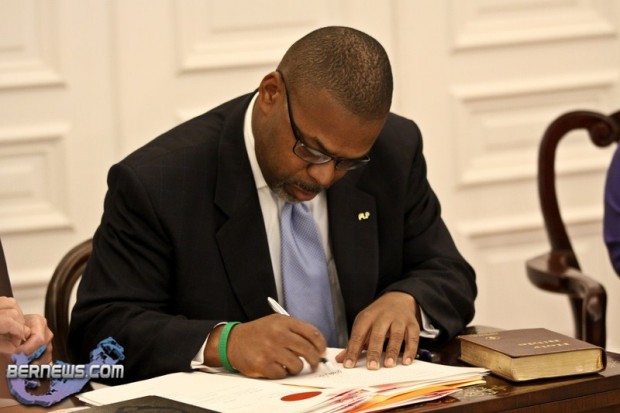 The son of Matthew A. Roban and Charlotte Powell, he received his early education in Bermuda at Mount Saint Agnes and the Robert Crawford Secondary School.
Minister Roban is a graduate of Morehouse College in Atlanta, Georgia, where he received a Bachelors Degree in Business and International Studies. He then received a Masters Degree in International Studies from the University of Birmingham, specialising in international politics, political risk and foreign policy analysis.
A former government Senator and who held the Junior Ministerial portfolios of Tourism & Transport and Education and Development, he joined the Bermuda Progressive Labour Party Youth Wing, "Progressive Youth," in the late 1980′s, serving as its Chairman and representative to the party's Central Committee from 1991 to 1993. In 1995 he was elected to the position of Secretary General of the PLP, which he held until August 1999.
Minister Roban served as deputy chairman of the PLP Campaign Committee in November 1998, playing a key role in all aspects of the historic national election campaign. In 2003, he was appointed to the PLP's Executive where he held the positions of Acting Secretary General Membership and Acting Public Relations Officer. In addition, he was spokesman for the election campaign as well as a Campaign Committee member.
Below Minister Roban is sworn in:
You can view more videos/bios of the 2010 Cabinet appointees by clicking here.
Read More About