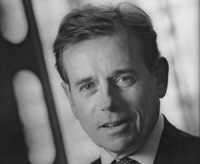 The Lloyd's of London insurance market keeps a close eye on competition from Bermudian reinsurers, but is more focused on the challenge coming from Switzerland.
In an exclusive Reuter news agency report, Lloyds chief executive Richard Ward [pictured] said while the London-based global insurance market monitors Bermuda-based (re)insurers, it is more concerned about the emerging competitiveness of the European nation.
"People are seeing Switzerland now as a safer haven than they ever have before," said Dr. Ward.
The Reuter article said that "For years, Lloyd's has faced increasingly strong Bermudian reinsurers, but Ward said the Bermudians in some cases were not as strong as they appeared."
In a report issued last year, leading (re)insurance intermediary Guy Carpenter said Bermuda's preeminence as the (re)insurance domicile of choice was under increasing threat from a surging Swiss market.
The growing Swiss (re)insurance market has been openly speculating it will continue to profit from Bermuda's woes in 2011. Lengthy analyses by both Reuter and Business Insurance have questioned whether Bermuda is losing its allure as a top global (re)insurance centre given the number of firms reincorporating in Switzerland or opening new subsidiaries there.
Bermuda-based Allied World announced plans to move its holding company to Switzerland laye last year. In May London-listed Amlin said it would be relocating its Bermuda-based reinsurance unit to Switzerland while industry giant ACE, headquartered in Bermuda, redomiciled to Zurich two years ago.
In addition to the redomestications, a number of Bermuda companies have also launched European operations in Switzerland in recent years including Endurance Specialty Insurance Ltd., Montpelier Re Holdings Ltd. and Arch Reinsurance Ltd."
Read More About