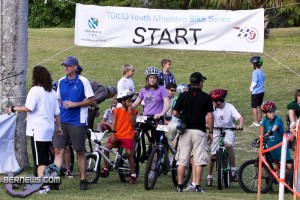 This coming Saturday [Jan 29], children have a great opportunity to get some exercise and have fun at the Tokio Youth Mountain Bike race at the Arboretum on Montpelier Rd in Devonshire.
The bike series is open to primary school-aged children to help introduce them to cycling while promoting physical fitness and healthy lifestyles. Children of all abilities are encouraged to participate — from those who already have some cycling skills to those who still need training wheels. All children are cheered and encouraged to do their best by family and friends in these non-competitive races.
The races, organized by Tokio Millennium Re Ltd. and Bicycle Works and sanctioned by the Bermuda Bicycle Association, are designed to allow children to have fun in a safe environment. There's no sign-up fee, participating children will get goodie bags courtesy of Tokio Millennium Re and there will also be draw prizes.
Planet Coffee will also be present – mixing up free lattes or other java beverages for the parents and hot chocolate for the riders.
Remaining races in the Tokio Youth Mountain Bike Series 2010-2011 Schedule
Saturday, January 29 – Arboretum (4pm)
Saturday, February 5 – Arboretum (4pm)
Read More About