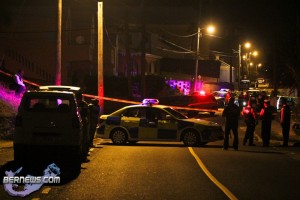 The Bermuda Police have issued a witness appeal following the recent murder of David Clarke, saying they are interested in speaking with anyone that may have seen person[s] on a white motorcycle wearing a red scarf in the general vicinity of the shooting Sunday night.
A Police spokesman previously said that Mr. Clarke, 26, was travelling west on North Shore Road at about 10:30pm on Sunday night [Apr.17] after leaving a function at the Mid Atlantic Boat Club.
He was less than 100 metres away from his home when he was shot, with the suspects thought to be two persons on a motorcycle who were also riding west on North Shore Road.
A Police spokesman said, "The team investigating the murder of David Clarke is interested in speaking with anyone that may have seen the riders of a white scooter or motorcycle, with one or more of the persons on the bike wearing a red scarf. These persons would have been in the North Shore Road / Long Ridge Pass / Lookout Lane (Tribe Road #2), Devonshire area."
"If anyone saw individuals matching this description in the North Shore Road, Devonshire area on the night of Sunday, April 17th please contact the Serious Crime Unit on 299-8115 or the independent, confidential Crime Stoppers Bermuda hotline on 800-8477 (TIPS)."
Read More About