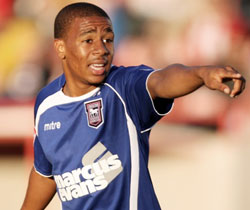 Ipswich Town have released Bermudian international winger Reggie Lambe [May 6].
The 20-year-old midfielder, who is currently on loan at Bristol Rovers, had joined Ipswich's soccer academy from school having been spotted by an associate of former director Holly Bellingham.
He had been a professional for the last two seasons.
Mr. Lambe made his first appearance for Ipswich in its Carling Cup victory over Shrewsbury last season and went on to make four more starts in the same competition. He made his UK league debut in Ipswich Town's victory over Middlesbrough at the Riverside Stadium on August 7. 2010, replacing Carlos Edwards in the 64th minute. The game ended in a 3–1 win for Ipswich Town.
Ipswich boss Paul Jewell told the club site: "I have spoken to Lambe and we wish him all the best for the future."
Read More About