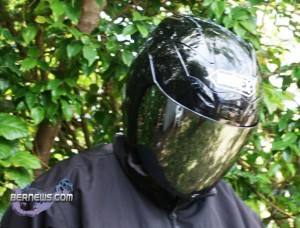 During last night's [May 5] Town Hall meeting on crime Minister of National Security Wayne Perinchief said that dark visors on helmets will be banned.
As locals are aware, it is not unusual to hear of a crime committed by suspect[s] wearing a dark visor.
Minister Perinchief said, "The public have called out and said listen, many of these offences have committed by people riding bikes with darkened visors or obscured faceplates."
"What we are doing, I signed off on the paper yesterday, with the Minister of Transport, is banning those visors."
"So people will be aware that after that after that legislation passes you will not be able to ride bikes with darkened visors or tinted glass, also cars, same thing. We recognize that these may be short term or stop gap measures, but we have to do this," concluded the Minister. His statement was greeted with applause from the audience at the Town Hall.
We spoke with the Minister after the meeting where he expanded on the concept:
Bernews posted a story about the possibility of banning dark visors last week, which appeared to be a controversial option judging by the 250+ comments with many disagreeing, while some agreed with the concepts. What do you think of the move to ban dark visors?

Loading ...
Read More About