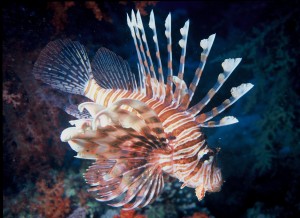 Efforts to snatch victory from the jaws of the lionfish by enlisting chefs to help out continue to gain momentum in the US thanks to the "Eat Them To Beat Them" initiative launched on the island by the Bermuda Aquarium, Museum & Zoo's Chris Flook.
Mr. Flook — who heads Bermuda's Lionfish Project aimed at reducing the numbers of the invasive species in local waters — has lectured internationally on how restaurants could help reduce the scavenger's numbers by adding it to their menus.
Lionfish continue to raise major concerns among marine conservationists in Bermuda, Florida and the Caribbean. Native to the Indo-Pacific ocean and the Red Sea, lionfish have no known predators in the Atlantic.
"It's a perfect invader. Not having evolved in this ocean it has many advantages that allow it to flourish," Laddie Akins, director of special operations at Florida's Reef Environmental Education Foundation, recently told the on-line Miller-McCune news site. REEF is a charity group of civic-minded divers perhaps best known for their ongoing fish surveys.
Lionfish at Bermuda Aquarium, Museum & Zoo
Accounts of lionfish in Atlantic lurch between urban legend and provable fact. Numerous sources report six lionfish were first seen in the Biscayne Bay, Florida in 1992, apparently having been freed shortly after Hurricane Andrew damaged a beachside aquarium.
Regardless of how they arrived, their presence is increasingly being felt.
Researchers examining the stomachs of lionfish have found the remains of 50 species of other fish, ranging from commercially valuable grouper, snapper and crustaceans to fish that groom coral reefs, such as the algae-eating parrotfish.
In Bermuda Mr. Flook has said measures intended to reduce the invasive fish's population have helped keep the species from overtaking the reefs as has already happened in the Bahamas.
"We will always have lionfish on our reefs, but unlike some areas, we will still have other species as well," he told a recent Hamilton Rotary Club meeting.
Lionfish reach maturity within two years and reproduce frequently, producing up to 30,000 eggs each time per spawn. Ocean currents carry the eggs north to Bermuda and through parts of the Caribbean and Florida.
REEF has declared open season on this formidable predator, hoping to eat the Atlantic lionfish out of existence.
Inspired by Mr. Flook's campaign in Bermuda, in  December 2010, REEF published the "Lionfish Cookbook", a primer detailing the cooking and preparation of lionfish.
REEF's project is attracting prominent chefs in Washington, D.C., lured by the prospect of working with new ingredients. Recently, Xavier Deshayes, executive chef at the Ronald Reagan Building, joined a lionfish derby in the Bahamas as part of an "ocean to plate" lecture series hosted by the US National Aquarium.
"It's very exciting for a chef to know exactly where his fish is coming from," he said. "It's a completely different experience than getting your fish from a supplier."
According to Chef Deshayes once filleted lionfish are similar in flavor and texture to halibut, a seafood staple that is flash frozen and shipped to high-end restaurants across the United States.
BAMZ's Chris Flook talks about Bermuda's lionfish invasion with Alex Scrymgeour
Read More About
Category: All, Environment