In the fifth of a series of profiles of contestants, Bernews today spotlights 25-year-old Sharmaine Landy who is representing Hamilton Parish West in the upcoming Miss Bermuda Pageant.
A graduate of Cedarbridge Academy, Bermuda College and Oakwood University, she is currently employed at Butterfield Bank as a Retail Training Specialist. She says, "At the moment I am working on the Training Team for a special project and enjoying the team dynamic and creative outlet it brings."
Ms Landy is the recipient of the 2005 & 2006 Bermuda Government Further Education Award scholarship, the 2006 Bermuda Chamber of Commerce ABIC Academic Scholarship, and the 2007 Top Marketing Major Award from Oakwood University.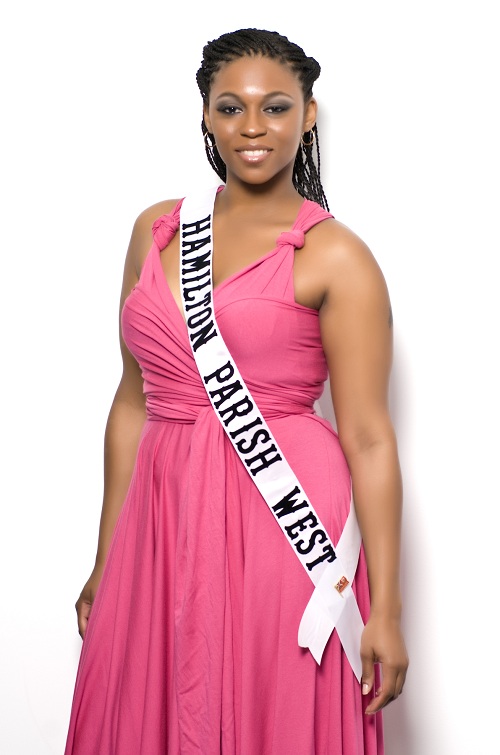 The daughter of Lillian Ingham, Ms Landy said, "Having raised me as a single parent for the majority of life, my mother and I are very close. I have always found it extremely easy to talk to her about my problems, fears, and dreams because she never judges and always give me practical and honest advice (even when I don't want it). She truly understands who I am as an individual and has never failed to support me in my endeavours; she is my number one fan."
When asked if she were to win the Miss Bermuda contest, what message would she like to send, Ms Landy said, "I would like to speak directly to the young women of Bermuda. Unfortunately in today's society females are taught by the media from young that they must conform to certain physical images in order to be noticed and successful in life."
"Over the years Bermuda has become saturated with 'pop culture' and it is not just our young men who are falling prey to these ideals. Too many girls are growing up thinking it's cute to whine their little bodies or sing songs containing lyrics they don't know anything about instead of being encouraged to soak up knowledge and expand their social awareness. "
'To my fellow young women and all the girls who will one day become women of this island, I impress upon you to be the best you can be and to strive to surpass the expectations of not just Bermuda but also the vast world outside of our island home. I want you to remember that your dreams and aspirations are never beyond your reach if you stay true to yourself and live life positively despite the odds you may face. I don't want you to lower your standards for anyone or settle for less than you are worth. Finally, don't forget that true success and happiness comes only when you stop living for the world and start appreciating who you are as an individual.'
"To the greater community: let's continue to uplift our young women, reminding them of their value, and to openly celebrate their achievements when we see they are trying to set the example. We just never know who the next big time lawyer, doctor, CEO, or Premier may be. It could very well be your daughter, niece, sister, cousin, friend, or the girl you don't know walking down the street that you barely even notice."
Ms Landy said, "One thing my late grandmother always used to say to me as a child was to remain true to my morals, values, and beliefs. She taught me never to forget where I came from so that I would not lose who I am along life's journey. It is those words that push me when I find myself in difficult situations or when I feel like giving up on my dreams. I am truly grateful to have had such a strong and positive influence in my life during my early years and I know she would be proud if she were here today. Bermuda's young women need strong, seasoned women to look up to; women who can show them that they care."
Sixteen young ladies will compete for the title of Miss Bermuda on June 12 at the Fairmont Southampton. Tickets, which range from $65 to $125, are available here on Bdatix.bm.
Read More About
Category: All, News, Style & Beauty