[Updated with videos] David Cox has been found guilty of murdering Troy "Yankee" Rawlins. The jury convicted him by unanimous verdict, and immediately after the verdict Mr Cox's lawyer rose and asked that sentencing be delayed in order to allow mitigating factors to be submitted. Mr Cox was remanded in custody and will be sentenced at a later date.
Speaking after the verdict Detective Chief Inspector Nicholas Pedro said, "We have put a very dangerous man behind bars. Make no mistake, Bermuda is a very much safer place today with Mr Cox convicted for this murder. This was a brutal assassination of an unarmed and defenseless man."
Mr Cox was the only person on trial, however there were two gunmen involved in Mr Rawlins murder. Detective Pedro said, "We move on to the second shooter, and there will be more to follow in that regard."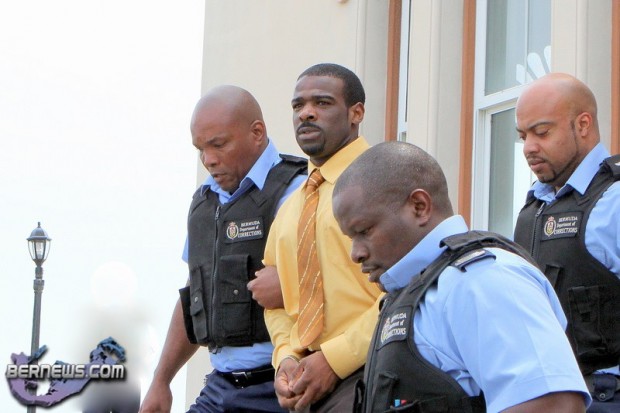 Justice Greaves finished his summation at approximately 11am this morning [June 10], and the jury started their deliberations in the case of David Cox, who stands accused of killing 'Raymond Troy "Yankee" Rawlins in August of last year.
Mr Cox 32 of Club Road, Smiths was charged with premeditated murder and using a firearm to commit an indictable offence. He
During the trial the court heard that Mr Rawlins was shot 16 times, viewed the CCTV footage of the shooting and heard that Mr Cox's DNA was found on both a baseball cap found by the crime scene and a glove found by the getaway car.
Mr Cox being lead away after being found guilty this afternoon:
Testimony was also presented that the guns used to kill Mr Rawlins were used in a number of other shootings, and that Mr Rawlins had ties to Parkside, while Mr Cox was said to have ties to 42nd. Mr Cox denied the charges on the stand saying "I did not shoot Yankee Rawlins."
Detective Chief Inspector Nick Pedro and Assistant Commissioner David Mirfield speak after the verdict:
Mr Cox's defence lawyer John Perry QC said that the Crown's case hinged on three things. The eyewitness evidence and the forensic evidence of the DNA and the Gun Shot Residue [GSR] found on the hat and gloves.
Mr Perry said that even an "honest eyewitness can make a mistake," and in dealing with the gloves, the hat, DNA and GSR, he said that the Crown has not proved how and when the DNA and GSR got on the gloves and hat.
In the Crown's closing argument, the Prosecutor said that the killing was a premeditated act. She cited the fact that the Crown had shown evidence that someone had acquired a gun, had stolen a car that was used in the approach to the killing ground and as getaway transport, had disguised themselves with jackets, hats, and gloves; had waited for Mr Rawlins to arrive at the Spinning Wheel nightclub.
Read More About
Category: All, Court Reports, Crime, News