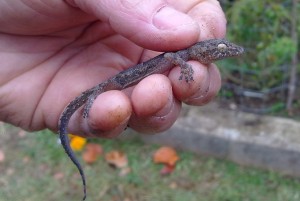 Since appealing for the public's assistance in spotting geckos last month, the Department of Conservation Services has received six reports of gecko sightings.
Biodiversity Officer Alison Copeland said they received the reports right after the article was in the press, with nothing since.
Ms Copeland said she, "suspects most of the reports are Warwick Lizards, due to the size and they were seen climbing trees in the day time. I have checked out a few of the sites [Botanical Gardens and Railway Trail] and found nothing."
The two new types of geckos – the Mediterranean or Turkish gecko, [Hemidactylus turcicus] and the Asian gecko [Hemidactylus frenatus] – are suspected have arrived via cargo, likely hidden in bales of peat moss or similar material.
The Department of Conservation Services said the geckos will compete for food sources with our existing populations of anoles, Bermuda Skinks, and tree frogs, and said they "might bring with them unknown viruses that could impact the same species. We are unsure how invasive they are and how rapidly they will spread if left to their own devices."
The Department of Conservation Services said is safe to capture the geckos and they can be brought to the Bermuda Aquarium. Museum and Zoo in Flatts. For more information on the lizards and to report sightings visit Conservation.bm/geckos/
Read More About
Category: All, Environment, News