Hundreds of people turned out yesterday [July 3] for the Festival Of The Holy Spirit celebrations held in St George's. The Festival started centuries ago in the Azores, and is celebrated by Portuguese citizens and descendants worldwide. Saturday's inclement weather dampened the turnout, however Sunday saw a steady stream of people enjoy the day's festivities.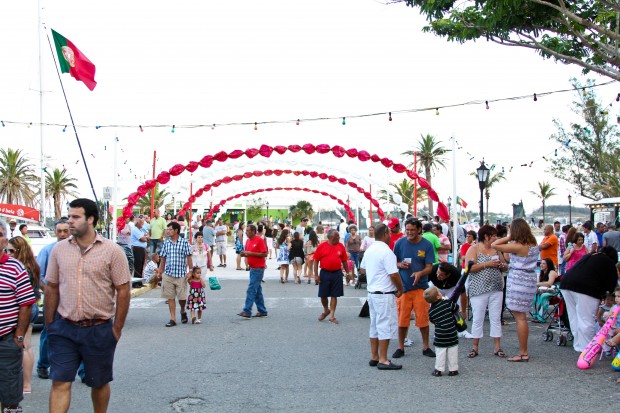 The Square was decorated, with live music and plenty of food on offer including Portuguese donuts made on the spot. Also on show were decorated sections in keeping with traditions, located at the old passenger terminal on Ordnance Island.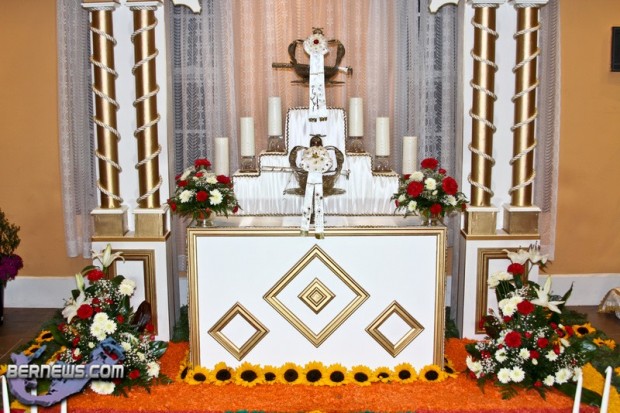 Lisa Almeida and Eugene Lima and spoke with us and explained many of the traditions surrounding the event. Mr Lima started organizing the event in Bermuda sixteen years ago.
Ms Almeida explains the charitable giving component of the Festival, and Mr Lima explains about various other aspects of the traditional event:
The Travellers perform:
Portuguese Donuts being made:
The festival stems from a legend which says that during the reign of Portugal's Queen Isabela [around 1270 to 1336], a drought plagued the country. Against her husband's wishes, the Queen hid food in her apron, with an aim to sneak out and feed the poor.
Her husband once asked her to open her apron, and Queen Isabela prayed to the Holy Spirit before opening her apron for his inspection. When she opened it, roses are said to have tumbled out instead of the food, a miracle which sparked the Festival of the Holy Spirit.
Click to enlarge:
Read More About