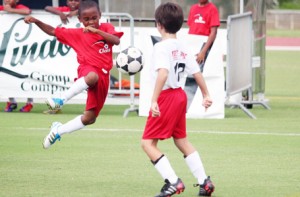 The East dominated the Kappa All Star football games held at the National Sports Center this past weekend – winning 3 of 4 matches.
Friends and family packed the stands for the afternoon, cheering on the young players through each game.
Hosted by Patrina 'Power Girl' Paynter, the day's events also included musical performances and the ISL vs MISL match.
In the U/8 game the East boys recorded a 7-6 victory in an OT shootout, while the U/9 East girls also won, beating the West All Stars 3-2.
The East won the U/10 Boys 2-1, with the West's lone win coming in the U/12 match, with the West picking up a 4-1 victory.
U/8 Boys – East 7  West 6: The first match of the ISL/Kappa youth matches was decided in a shoot-out, with the East winning 7 – 6. The East got two goals from Kashe Hall, Leroy Lewis and Seke Spence, with Kaaron Brown scoring the shoot-out goal, while Jakiem Jennings, Diione Millett, Jayce Basden, Deandre Warner, Jay Don Douglas and Kiyarde McQueen all scored a goal each for the West.
U/8 Girls – East 3 West 2: In the second match at the National Sports Center, the East Girls came away with a 3 – 2 win over the West Girls. Jahzhiah Samuels scored twice for the East, who also got a goal from Shaela Burnard, while Dazhja Greaves scored twice for the West.
U/10 Boys – East 2 – West 1: In the third match the East Under 10 Boys defeated the West 2 – 1. Chemarl Henry and Nasje Brockington scored a goal each for the East All-Stars, while the lone West goal came from Colin Zuill.
U/12 Boys – West 4 – East 1: The West won the final game of the day by a 4 – 1 margin. The West got a hat-trick from Oneko Lowe, while Zhiyaa Wolfe added the final goal. Nathan Trott scored the lone goal for the East.
Watch highlights below:
Read More About