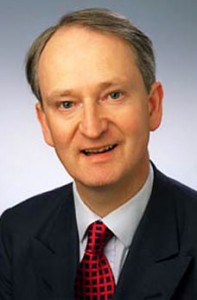 Winding down his visit to Bermuda at a press conference at Government House today [Sept.27] Henry Bellingham, the UK's Minister for Overseas Territories, said that he would be seeking to start talks to have funds from Britain's National Lottery made available for use in Overseas Territories such as Bermuda.
Mr Bellingham said that the National Lottery was currently sitting on a cash pile of 1.5 billion pounds [about $2.3 billion] and that this could be used to help fund sports and other activities amongst the 280,000 persons who live in the Overseas Territories.
He said that this would require working with the Department of Culture, Media, and Sport. "I made it absolutely clear to my fellow Ministers that this is something that they really have got to sort out."
He went on to say that there was: "…a complete illogicality to not having that money available to the…280,000 or so citizens…" of the Overseas Territories. He compared this Overseas Territory population to the size of Norwich, which he said was in his county.
He went on to say: "It seems to me grossly unfair that the citizens of these Territories who have British passports..that they are keen to retain the link with Britain and it seems to me..quite wrong and anomalous that they can't enjoy the benefits of the Lottery."
He said he was working on this but that there are some practical problems to be gotten around such as a need for legislation and problems working with the big Lottery Fund and the Heritage Lottery Fund. He pointed out that he could not promise when this would happen, but said: "To me this is a priority."
The fourteen Overseas Territories are: Anguilla, Bermuda, British Antarctic Territory, British Indian Ocean Territory, British Virgin Islands, Cayman Islands, Falkland Islands, Gibraltar, Montserrat, Pitcairn, St Helena and St Helena Dependencies, South Georgia and South Sandwich Islands, Sovereign Base Areas of Akrotiri and Dhekelia, The Turks & Caicos Islands. Bermuda has the largest population.
Read More About