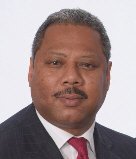 Constituency #17 in Pembroke held their candidate selection meeting this evening [Sept.27] and Minister Wayne Perinchief was ousted for Walton Brown.
Walton Brown is President of Research Innovations Limited, and has previously served as a lecturer at Bermuda College [1988-2000]. He served in the Senate from 2007 to 2010, and was Junior Minister of Education, Energy, Telecommunications and E-Commerce. Mr Brown recently released the book 'Bermuda and the Struggle for Reform: Race, Politics and Ideology.'
Minister Perinchief, who presently serves as Minister of National Security, was first elected to the House of Assembly in November 1998. A career Police Officer before going into politics, he retired as head of the Criminal Investigations Department in 1995, after attaining the rank of Assistant Commissioner.
Minister Perinchief joins fellow incumbents Ashfield Devent [C#21] and Darius Tucker [C#7] in not retaining their seats, and is the first Cabinet Minister to have lost at branch level.
In 2007 Minister Perinchief won with 56.5% of the vote [439 votes], over the UBP's Austin Warner [308 votes] and Harold Darrell who ran as an Independent [24 votes].
The PLP has been holding candidate selection meetings islandwide in recent days and the winners so far are; Diallo Rabain in Hamilton South [C#7], Rolfe Commissiong in Pembroke South East [C#21], Zane DeSilva in Southampton East [C#29], Randy Horton in Southampton West [C#32], Kim Wilson in Sandys South Central [C#34], and Dennis Lister in Sandys North Central [C#35].
Update: The vote count was not officially released, however is unofficially said to be a total of 25 voters; 17 for Mr Brown and 8 for Minister Perinchief.
Read More About