The Bermuda Optimist Dinghy Association [BODA] completed the 15 Race Hardy Ltd. Autumn Series 1 on Sunday [Oct.27] in extremely light and variable conditions. Officials were unable to get sustained winds from a consistent direction after the first race of the day and called it quits early in the afternoon. A prize presentation was held at the host club, RBYC once the scores were confirmed.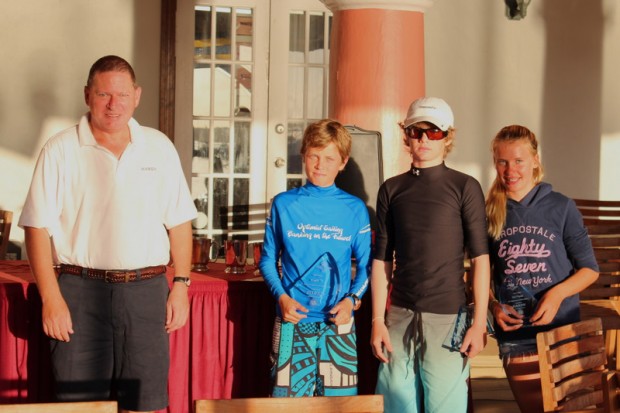 In the Gold Fleet, Chase Cooper [21pts] edged out Rory Caslin [23pts] to win the series by two points after the pair were tied going into the final day. There was also an overall tie for 3rd between Ceci Wollmann and Antonio Bailey, both with 38 points. Wollmann was able to clinch 3rd on "countback" scoring. In the photo above, Chase Cooper, Rory Caslin and Ceci Wollmann receive their prizes from Hardy Bermuda Ltd. Managing Director, Paul Bailie.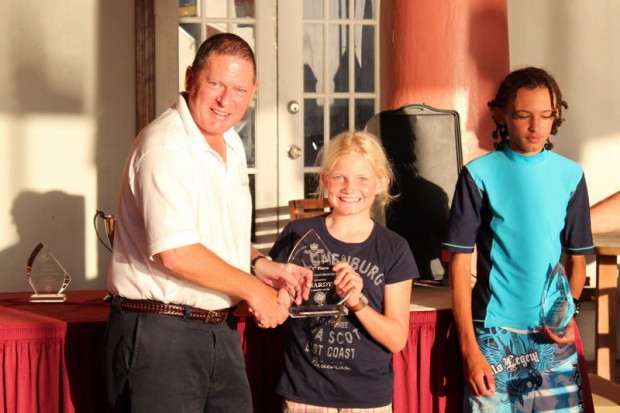 In the Silver Fleet, Matilda Nicholls took home the top honours with a resounding victory over the fleet. Second was Kieran Swann followed by George Buckley. Pictured above are Matilda Nicholls and Kieran Swann receiving their 1st and 2nd place awards from Hardy Bermuda Ltd. Managing Director, Paul Bailie.
The Hardy Ltd. Autumn Series 2 starts on October 30th.
Read More About