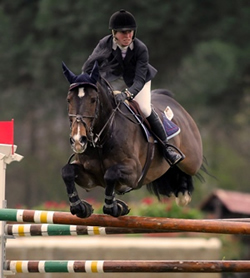 The Bermuda Equestrian Federation issued a clarification to their recent confirmation that Jillian Terceria was selected to represent Bermuda in the show jumping competition at the 2012 Olympic Games.
A spokesperson said, "The recommendation was made to the Bermuda Olympic Association following confirmation from the International Equestrian Federation (FEI) that Jillian had reached the qualifying standard on two horses and had been issued a Certificate of Capability. The decision on which of her two horses, Bernadien van Westuur or Lakvels, will be made by the rider closer to the final date for entries to be made by the BOA.
"Jillian first reached the qualifying standard on at the Pan American Games held in Mexico in October 2011 when she finished eighth overall in the final round and then again in May of this year in Austria repeating the mark in June in Aalst in Belgium. On Lakvels she reached the mark on the same weekend at Aalst.
"Bermuda had gained only one spot for participation in the London Games and our other rider competing at the same level Patrick Nisbett had also reached the qualifying standard in 2011 on Cantaro 32 but Cantaro was sold before the end of 2011 and Patrick had to start again in 2012 as qualification must be made on the same horse/rider combination.
"Unfortunately for Patrick, his alternate horse, Milton Des Cresles developed a minor lameness, preventing him from competing and from attempting to qualify, leaving Jillian as the only currently qualified rider.
"Jillian is continuing to compete her horses in order to be prepared for the Games and just this weekend in Drammen, Norway finished 11th and 13th in two classes on Bernadien as well as taking part in three other classes on Lakvels."
Read More About