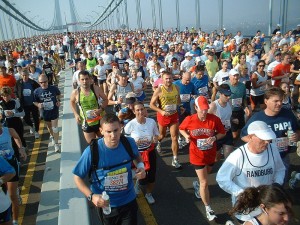 Several athletes from Bermuda took part in the New York Marathon this past weekend, joining the tens of thousands of runners from around the world.
Andrew Hunt crossed the line in a time of 3:02:05 finishing 1,314th overall, Geoffrey Blee finished 1,730th overall clocking a time of 3:06:41.
Manuel Lopes finished with a time of 3:19:48 crossing the line in 3,402nd, with Spencer Conway finishing 4,550th with a time of 3:26:22. Martina Olcheski-Bell finished 12,578th with a time of 3:54:20, Emily Dunne clocked a time of 3:59:56 finishing 15,152nd.
Stephen Dunkley finished 17,174th clocking 4:05:50, Sarah Berlis finished 26,625th with a time of 4:31:09, while Salvatore Cantarella finished 28,269th with a time of 4:36:26.
David McHugh finished 34,704th overall after recording a time of 4:57:41, while Shiona Turini clocked a time of 5:01:04 finishing 35,656, Phillip Faries finished 40,723rd clocking a time of 5:27:40 and Sharon Dublin finished 42,357th with a time of 5:40:31.
Kenyan Geoffrey Mutai won the race, finishing in 2 hours, 5 minutes, 6 seconds, crushing the previous mark of 2:07:43 set by Tesfaye Jifar of Ethiopia a decade earlier.
Second place Emmanuel Mutai, also of Kenya, and third place Tsegaye Kebede of Ethiopia also beat the previous record for the event, with times of 2:06:28 and 2:07:13 respectively. Firehiwot Dado of Ethiopia won the women's race in a time of 2:23:15, marking her first major marathon victory.
Read More About