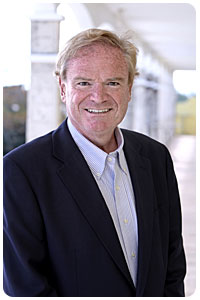 The business editor of Britain's SkyNews is today reporting that Bermuda-based insurance tycoon Mark Byrne [pictured] is pushing "for a cut-price deal to muscle his way into the boardroom of one of the largest operators in the Lloyd's of London insurance market."
Sky's Mark Kleinman reports that Mr. Byrne — who co-founded Flagstone Reinsurance Holdings in Bermuda — is trying to rework an offer his locally-based Haverford vehicle made for Omega Insurance Holdings.
"[Mr. Byrne], whose Haverford vehicle has made an offer to buy 25 per cent of Omega Insurance Holdings, is trying to reduce the price below a 73 pence-83 pence range indicated to shareholders in September, according to people close to the situation," said Mr. Kleinman.
"The attempt to cut the price he pays for the Omega stake has left the fate of Byrne's bid hanging in the balance. A number of major investors are understood to have tendered their stakes for 83p ahead of a deadline this Wednesday."
Mr. Byrne, who is close to Warren Buffett, the billionaire US investor, is understood to be unwilling to press ahead with an offer in the original price range. That follows a third-quarter trading update from Omega last week which included a $ 6million loss on catastrophes that had taken place during the first half of the year.
SkyNews said the Wednesday [Nov.30] deadline for Omega shareholders to tender their stock will have to be extended if Haverford still wants to acquire the stake, because Lloyd's and Bermudian regulators have not yet approved the deal.
"Under the terms of the proposed deal, which was recommended by Omega's board ahead of two rival offers to buy the whole company, Byrne would become chairman of the Lloyd's insurer," said Mr. Kleinman. "I'm told there's some uncertainty about the basis on which Haverford could withdraw its offer, particularly if at least 15 per cent of investors have already tendered their shares."
Haverford and Omega both declined to comment to SkyNews this afternoon.
Read More About