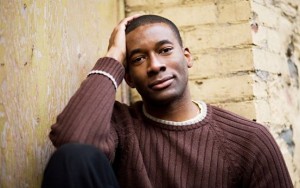 It's a case of the nightmare before Christmas for Bermuda actor Daren A. Herbert when his police detective character must help to unravel a fiendish Yuletide kidnapping plot devised by Mary Higgins Clark, America's bestselling Queen of Suspense.
Mr. Herbert plays New Jersey detective Vince Lugano in "Deck The Halls" — a new TNT TV film airing on December 20 as part of the cable network's month-long Tuesday "Mystery Movie Night" series. Mary Higgins Clark and daughter Carol Higgins Clark, joined forces for the first time to create the 2000 novel about a kidnapping played out against a holiday setting.
Ron Underwood, director of the Academy Award-winning "City Slickers", helmed the TV adaptation with a cast that also includes Scottie Thompson, Jane Alexander and David Selby.
Three days before Christmas, Regan Reilly [Thompson], the dynamic young sleuth featured in the novels of Carol Higgins Clark, meets Alvirah Meehan [Kathy Najimy], the maid-turned-amateur detective who has appeared in another series by the American author.
While Regan's mother, Nora [Alexander], the famous mystery writer, is in hospital, her husband, Luke [Selby], and his chauffer, Rosita [Luciana Carro], are kidnapped and held for a million-dollar ransom.
Together, Regan and Alvirah track the case as the inept yet dangerous kidnappers make their demands known. Meanwhile, Luke and Rosita are held captive on a houseboat on the Hudson River as a fierce winter storm is gathering force.
It's been a busy period for 1993 Warwick Academy graduate Mr. Herbert who has appeared in such films as the Oscar-winning "Dream Girls" and the comedy blockbuster "Hot Tub Time Machine".
In the last year he appeared in several TV movies and series, shot a role for the upcoming Reese Witherspoon romantic comedy "This Means War" and also won rave reviews in an acclaimed Toronto revival of the musical "Parade."
This summer, he was invited back to the island along with fellow Bermudian performer Rebecca Faulkenberry to participate in the Argo Foundation's "Glee" project for youngsters.
"Deck The Halls" airs on Tuesday, December 20 at 10 pm Bermuda time.
Read More About
Category: All, Entertainment, Films/Movies, News