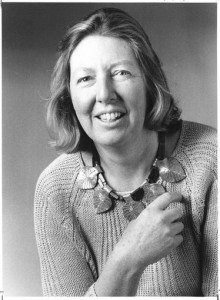 Erica Wilson, the needlework instructor who spent the early years of her life in Bermuda and went on to become known as the Julia Child of embroidery, has died in New York at the age of 83.
Ms Wilson's 1962 book "Crewel Embroidery" is credited with reviving the craft and launching a publishing category, transforming her into "America's first lady of stitchery" as she built a multimillion-dollar embroidery empire through her needlework designs, television shows, books and stores.
The volume also marked something of a turning point in publishing. It was the first needlework title released by publishing house Scribner's, a surprise smash hit that eventually sold about one million copies.
As her publisher and others "clambered aboard" the craft-book "bandwagon, it amounted to a literary revolution," Charles Scribner Jr., former chief of the publishing house, wrote in his 1990 memoir.
Erica Moira Susan Wilson was born October 8, 1928, in Tidworth, England, near Stonehenge, but came to Bermuda as an infant.
She spent her first five years in Bermuda when her father — a colonel in the British military — was stationed here. In a memoir, she said her earliest — and fondest memories — were of playing with her Bermudian friends in the woods near the old British military garrison at Prospect, a covert which has since become The Arboretum.
After her parents divorced she left Bermuda ["I was broken-hearted at leaving the only home I'd ever known," she said] and was raised in England and Scotland and immigrated to the United States in the 1950s.
"Her influence is absolutely incalculable," said Marion Scoular, who attended the Royal School of Needlework in London with Wilson and came to the US in 1963 to discover that Ms Wilson was already "the guru of needlework — everyone knew her. She also had a television programme later on, before such things were happening."
She was often called the Julia Child of the practical arts. While Ms Child introduced Americans to French cuisine through television, Ms Wilson brought national attention to many styles of stitchery on her public television show, "Erica," that began airing in the early 1970s.
Ms Wilson died on Tuesday [Dec.15] after suffering a stroke.
She was perhaps best known for her expertise in crewel embroidery, which uses yarn instead of thread.
Read More About
Category: All, Entertainment, Style & Beauty