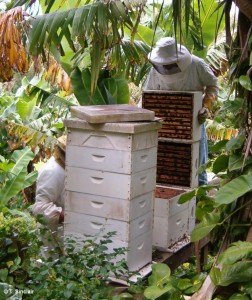 Honey bees are among Bermuda's oldest inhabitants, introduced to the island from England in 1616 — just four years after its permanent settlement.
They were not imported into the American colonies until six years later.
In recent decades virtually all Bermuda's honey bees have been kept in frame hives [pictured] but the long-term future for beekeeping in Bermuda is not bright.
Undeveloped and cultivated land is quickly disappearing and, unfortunately for the bees, nectar-producing plants are less abundant in artificial landscapes.
It is becoming increasingly difficult for beekeepers to find suitable sites for their hives but they persist in the face of adversity, keeping the island's grocery store shelves stocked with honey. Bermuda honey has also become a popular tourist souvenir in recent decades and hotel gift shops now stock it.
The Bermuda Beekeepers' Association (BBA) was formed in 1949. Today, most of the island's beekeepers belong to BBA and attend bimonthly meetings.
The BBA has a permanent display including an observation hive at the Bermuda Aquarium, Museum and Zoo.
One colony can produce up to 170 kg of honey, said by Bermuda folklorists to be a powerful aphrodisiac when taken with tea
The Department of Community & Culural Affairs released this short video vignette on Bermuda's bees and beekeepers this week. The film was made by Somers Isle Productions.
Read More About
Category: All, Environment