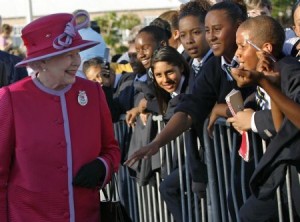 Government House and the Cabinet Office announced today [Jan. 13] the formation of a committee to lead the local celebrations of the Diamond Jubilee of the Queen.
Representatives of the Bermuda Regiment, the Department of Community & Cultural Affairs, Government House, the Cabinet Office and the island's two municipalities are joined by members representing the wider cultural community and the faith community.
The committee is chaired by Secretary for National Security, Maj. Marc Telemaque. Commemorative events will engage Bermuda's arts community, charities and young people in a celebration planned to coincide with events in the UK.
Governor Sir Richard Gozney said: "The Queen's Diamond Jubilee is a once in a lifetime event. I am sure that the celebrations planned by the Committee will bring together all areas of the community and be fun for both residents and visitors alike."
The Queen ascended to the throne on the death her father King George VI on February 6, 1952. The main celebration of the Queen's Diamond Jubilee will be held in the UK on the weekend of June 2-5.
The Queen last visited Bermuda in 2009 [she is pictured above meeting school children in St. George's] to help celebrate the 400th anniversary of the "Sea Venture" wreck which led to the island's permanent settlement.
Bermuda was the first country a newly-crowned Queen Elizabeth visited when she embarked on a world tour of the British Commonwealth in 1953. Footage of that visit appears below.
Read More About
Category: All