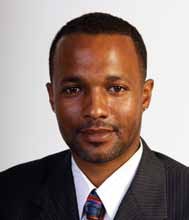 Next week the Minister of Environment, Planning and Infrastructure Strategy Marc Bean [pictured] and his Permanent Secretary Dr. Derrick Binns will attend the KPMG National Infrastructure Strategy Seminar in Florida.
Also in attendance will be the Minister of Public Works Michael A. Weeks and the Acting Permanent Secretary for Public Works Randy Rochester, as well as the Director of Sustainable Development Charles Brown and WEDCo General Manager Andrew Dias.
The international accountancy and financial services firm's summit will be held on January 19 and 20 at the JW Marriott Marquis in Miami, Florida and will focus on planning the key elements needed to create a national or jurisdictional infrastructure strategy.
The summit will address the unique issues and challenges facing island jurisdictions in planning infrastructure.
There are four speakers at the event: Global Chair of Infrastructure for KPMG James Stewart; Partner at KPMG Canada/Americas and Head of Global Infrastructure Stephen Beatty; partner at KPMG Bermuda Malcolm Butterfield; and partner of KPMG in The Bahamas Simon Townend.
Mr. Stewart will provide an overview of how the development of an infrastructure plan can be an effective tool for progressing government objectives in relation to infrastructure, while Mr. Beatty will review the sector envelopes within which priorities can be established and the key questions which need to be answered in order to effectively determine priorities.
Mr. Beatty will also present the range of most commonly used delivery models from traditional procurement to alternative project finance models.
"Our presence at this summit will go a long way to assisting us, in collaboration with a number of other island nations to the south, in developing our National Infrastructure Strategy — a Throne Speech commitment," said Minister Bean.
This summit is the second KPMG Infrastructure Summit that Bermuda has attended in the past few months — the first being KPMG's Infrastructure Summit: An Island Perspective of a Global Challenge which was held in Miami from September 21st to September 23rd.
"The first summit introduced to the delegates a number of issues that had been identified through various Public Private Partnership projects which had taken place over the region," explained Minister Bean. "It considered the identification, financing, and management of such projects, and the relationships between the Government and the private partners, for example.
"At the end of the summit the delegates suggested that they would find a focused session on the development of a National Infrastructure Strategy useful. This seminar is in response to that suggestion."
Read More About