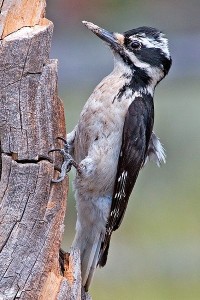 A storm is thought to have been responsible for blowing a previously unknown winter visitor to Bermuda's shores, a Hairy Woodpecker [pictured].
Bermuda Audobon Society member Paul Watson spotted the bird on October 30 while walking his dog Skipper at St. George's golf course
" I saw what I instantly recognised as the undulating flight of a woodpecker," he recounted in the BAS winter newsletter. "Within seconds I saw that it was a Hairy Woodpecker, having seen many in the US and Canada.
"The bird was similar in size to a Great Kiskadee, and slightly larger than the more common Yellow-bellied Sapsucker which is a fairly common fall migrant and often overwinters."
But Mr. Watson said the pure white undersides excluded it being a Sapsucker and the obvious white upper back patch —  between the wings — excluded all other North American woodpeckers with the exception of the smaller Downy Woodpecker.
"The woodpecker landed in a patch of casuarinas at Park Gates, and rushing to it I was able to get within 50 feet of the bird on the trunk of the tree, the size of the bird, and the large head and bill confirming that it was a Hairy Woodpecker," he said. "I called [BAS president] Andrew Dobson just to let him know I had a good bird, and commented that it was great that within the last year Bermuda had recorded four species of woodpecker — Hairy, Downy, Yellow-bellied Sapsucker and Northern Flicker — and Andrew very casually responds 'But it's a new species; Hairy has never been recorded here'."
Mr. Watson said as he tried to get a better view to start some formal notes and to try and determine what sex the bird was it flew off back down the old number one fairway and toward St. George's Club.
"Despite much effort the bird was not relocated," he said. "Last fall's Downy Woodpeckers disappeared after a week or so and were not seen throughout the winter, until I discovered one again whilst walking the dog on St George"s golf course in the spring.
"… Who knows where it will turn up!"
The Hairy Woodpecker inhabits mature deciduous forests in the Bahamas, Canada, Costa Rica, El Salvador, Guatemala, Honduras, Mexico, Nicaragua, Panama, Puerto Rico, Saint Pierre and Miquelon, Turks and Caicos Islands and the United States.
Read More About
Category: All, Environment