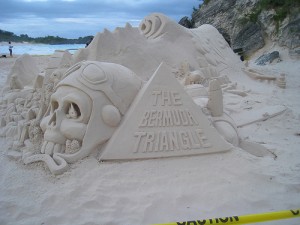 A supernatural thriller in the vein of the "Blair Witch Project" and last year's mock documentary "Apollo 18″ could be coming soon to a cinema near you.
Hollywood's WWE Studios announced yesterday [Jan. 20] they had acquired "Bermuda", a found footage horror speculative script by screenwriters Bobby Lee Darby and Nathan Brookes.
Set in the Bermuda Triangle [a Triangle-themed display from the 2008 Annual Sand Sculpture Competition at Horseshoe Bay is pictured at left], the story focuses on a documentary film crew that goes missing. The only trace is the discovery of their film footage chronicling their final desperate days.
The writers previously wrote "Slaughter", an homage to Japanese cult horror films which won a Horror Screenplay Competition prize at Utah's Slamdance film festival.
"The Bermuda Triangle has always been an intriguing and mysterious setting," said WWE Studios president Michael Luisi. "Bobby and Nathan's script puts a very unique spin on the found footage genre."
WEE has not yet announced a production schedule for the film or said whether ant of the feature will be shot on location.
A number of other Bermuda Triangle-themed films are in development in Hollywood — including a possible fifth installment of the Indiana Jones franchise and a World War Two-era Brad Pitt fantasy adventure.
Read More About
Category: All, Entertainment, Films/Movies