For the first time ever the Bermuda Kennel Club [BKC] Championship All Breed Conformation Dog Shows, held in October 2011, were nominated as Qualifying Shows for Crufts 2012.
Crufts is one of the largest dog events in the world with nearly 22,000 dogs entered in various disciplines. It is held in the U.K. under the rules of the prestigious Kennel Club, at the NEC Birmingham, March 8-11.
The qualifying dogs from each of the four Bermuda shows were: All Group Winners (1st's), Best Puppy in Show and Best Veteran in Show. Twenty dogs from Bermuda, the US and Canada qualified, and four have actually been entered and are going to compete.
The photo below shows the dogs and some of the people going to Crufts. Standing from left: Joy Nash, Rachel Hutchings, Ronnie Baptiste, Janice Moran, Sharon Vesey, Frank Williams, Michael deFontes, Maureen Burke. Front: Carole Havercroft and Kathy Williams, and of course the dogs: Myth, Whispa and Kali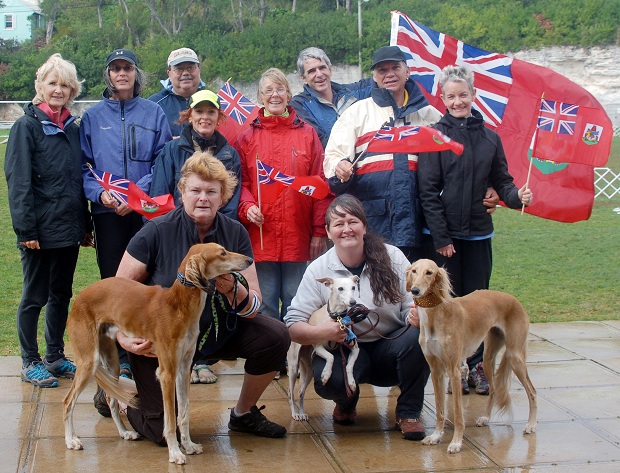 Canadian Chihuahua owned by Lynne McLellan, a regular visitor to Bermuda and Exhibitor in our Dog Shows; Bermuda Bred Veteran Whippet bred and owned by Kathy Williams; Saluki owned by Kathy Williams and Saluki owned by Carole & Ian Havercroft.
About twenty people from Bermuda are travelling to be there and support the Bermuda Exhibitors, with many planning to take Bermuda flags.
British Airways Cargo kindly sponsored the three Bermuda dogs' travel to the UK by waiving the freight charges. "Shipping dogs to the UK is an expensive venture and we are very grateful and appreciative to British Airways for arranging this," said a spokesperson.
Going to show their dogs in Crufts is a "dream come true" said Kathy Williams and Carole Havercroft. "We are all very excited and been busy preparing the travel arrangements for the dogs – organising the human's travel arrangements is much easier, but British Airways and the ASB staff are very helpful."
Read More About
Category: All