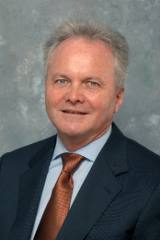 In an exclusive report today [Mar.9], wines and spirits trade journal "Shanken News Daily" revealed Bermuda's Bacardi Limited has named Ed Shirley, former vice chairman of Procter & Gamble's Global Beauty & Grooming division, as its new president and CEO.
Mr. Shirley will be based at Bacardi headquarters in Bermuda, and he starts his new job on Monday.
He replaces the retiring Seamus McBride [pictured], who has been Bacardi's president and CEO since September 2008.
Bacardi Limited chairman Facundo Bacardi said in an interview with the industry journal that the search for Mr. McBride's replacement took about nine months and that the move was aimed at coinciding with the company's fiscal year-end of March 31.
"This timing made the most sense, so Seamus's successor could start off with a new fiscal year," he said. "We were looking for somebody who understands premium brands, who has international experience and also has experience marketing both mass-brands and luxury brands, as well as someone able to transform their own culture."
Mr. Shirley, 55, began his tenure at P&G in 2005 after it acquired Gillette, where he had worked for 27 years.
As head of P&G's beauty and grooming unit, Shirley led a portfolio with $38 billion in sales and $6 billion in profits—and a brand portfolio including Gillette, Braun, Old Spice, Oral-B, Crest, Pantene, Olay, Hugo Boss and Gucci fragrances and Dolce & Gabbana fragrances and makeup.
Regarding the key priorities for the new president and CEO, Facundo Bacardi said the clear focus would be the core portfolio—the Bacardi brand, Grey Goose and Dewar's. "We need a strong, deeper focus on our core brands going forward, we need the US market to grow at a faster pace, and we need to continue evolving our emerging markets strategy," he added.
Facundo Bacardi praised Seamus McBride's help during the transition and his contributions to the company.
"During his three and a half years, Seamus kept us on the path toward our over-arching goal, which is to be recognized as the best in class spirits company," he said. "… Seamus transformed our marketing capabilities by developing a very strong global marketing function that added innovation capabilities," he said. "A good example of that is our recent launch of the OakHeart rum brand, which had a global rollout in 26 different countries. We didn't have that ability before Seamus. And he also developed a strong and talented bench for us in the future."
Read More About