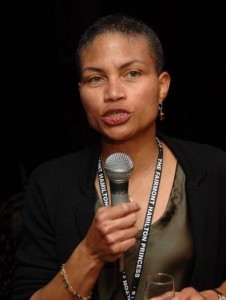 Former Planning Department official Aideen Ratteray Pryse has launched a new website and online newsletter aimed at  keeping local and international readers abreast of news from the development sphere on the island.
Ms Ratteray Pryse [pictured] said "Planning & Design Bermuda" is intended to provide a productive dialogue space for discussion, argument and possible accord about the way we live, work and play — with the aid of examples from around the world.
"Why start 'Planning & Design Bermuda'?" she said "I thoroughly enjoy the diverse aspects of design — structures, streetscapes, interiors, gardens — and the intricacy of the planning framework within which change occurs on our island.
"There is an overlap between planning and design where a mutually beneficial creativity can exist and be nurtured."
Trained as an urban planner, Ms Ratteray Pryse obtained a Bachelor's degree in Urban Geography, with a minor in Environmental Studies, at McGill University, Montreal, Quebec and a Master's in Planning at the University of Waterloo, Waterloo, Ontario.
She presently works full-time as a planning and development consultant for ARP Consulting Services, having worked in a part-time capacity for the consultancy since 2000.
ARP Consulting Services provides advice on planning law and policy, assists with processing applications for development and subdivision, undertakes environmental impact assessments, researches and writes ministerial appeal cases and coordinates community outreach for projects.
Until 1999, Ms Ratteray Pryse worked at the Bermuda Department of Planning and was the Assistant Director (Administration & Control) when she left to join the third sector and start the planning consultancy.
In the third sector, she was director of the Bermuda International Film Festival.
Read More About
Category: All, Business, Environment