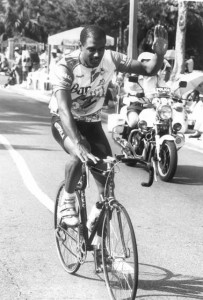 The Bermuda Bicycle Association is hosting the 26th official May 24th bicycle race this Thursday. Originally the Heritage Day Cycling Classic and renamed the Sinclair Packwood Memorial Race in 1998 following the passing of former champion Sinclair Packwood [pictured].
This year 68 riders are expected to take to the start line for the 11.9 mile sprint from Somerset to Hamilton, ending outside of the Leopard's Club on Cedar Avenue.
The presentation of the awards will take place in Bernard Park immediately following the conclusion of the race and the guest presenter will be John "Buddy" Ford, the winner of the first race in 1987. Last year's presenter was Ms. Yelenda Packwood, Sinclair's daughter.
While the most visible of local races, the relatively short distance makes this event one of the most difficult to win. Frequently the race ends with a bunch sprint for the finish line while breakaways, such as the highly memorable victory by veteran Jeff Payne in 1997 at the age of 58 or Neil de ste Croix's solo finish in 2007.
Defending champion Darren Glasford of Winners Edge will be there to defend his title while teammate Mark Hatherley and Dominique Mayho of Team Madison will also be pressing for the coveted title. But in this event all participants are looking to unseat the favorites and the technical nature of the course can produce some unexpected
The 2012 BBA road race season has seen the introduction of a Women's racing category and this year the women will have their own separate start to increase the awareness of the growth of women's cycling in Bermuda. Nicole Mitchel (Winners Edge) is the most experienced of the field but will be pushed to the line by a dozen other competitors.
And while the women contest their podium positions the Junior Men will see a very interesting battle. Vashon Cann (Madison), Daniel Oatley (Fast Forward Bicycle Works), Justin Ferreira (Winners Edge), Mark Godfrey (Winners Edge)and Deshi Smith (Team Tokio) all have a shot at the victory while Nathaniel Hartwig (Winners Edge), Daelan Richardson )Team Tokio) and Mustafa Ingham (Crime Stoppers) could upset the tables.
Video of last year's Sinclair Packwood race:
Racing is scheduled to begin from Somerset at 8:50AM with the leaders arriving in Hamilton just around 9:15. Live radio coverage will be broadcast by MIX 106 FM with commentary by Martin Bolton.
Read More About