Divers from Bermuda Sub-Aqua Club [BSAC] teamed up with a group of accountants to clear John Smith's Bay of trash and debris this morning.
The clean-up led to several bags of garbage being removed, while the divers recovered four plastic chairs, rope, glass bottles and fishing line from the ocean.
Seven accountants and three BSAC divers took part in the clean-up, jointly organized by the Association of Chartered Certified Accountants [ACCA] and BSAC.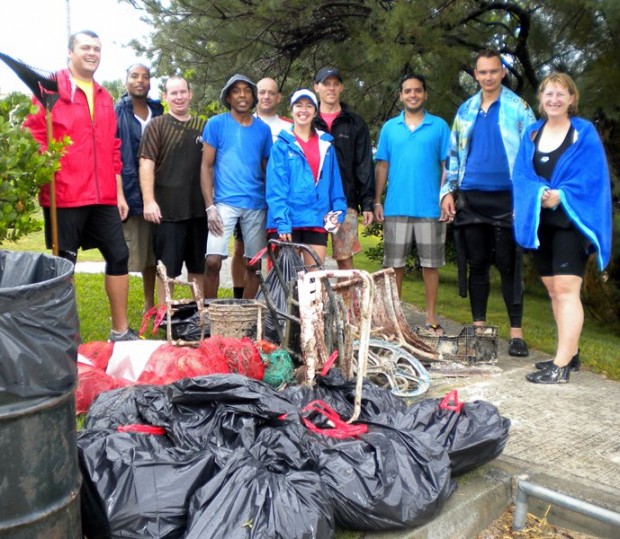 Rachel Derry of ACCA said: "We're really pleased with the amount of trash we collected. You tend to think of John Smith's Bay as one of the cleaner beaches in Bermuda but we found a lot of bottles, pieces of plastic and cigarette ends in the undergrowth.
"It was fabulous to have BSAC involved, as we previously did a beach clean-up at Shelly Bay but were unable to touch the water. It is certainly surprising how much plastic there is in the ocean. Also, the variety of items found there, such as chairs and golf balls."
BSAC is a charity and is part of the British Sub-Aqua Club. It runs diving qualification courses and social events throughout the year.
Potential new members can find out more at our club night at the BSAC Clubhouse, Admiralty Park, Spanish Point [pink building], every Wednesday from 7.30pm. For more information visit their Facebook page at BSAC – Bermuda or email chairman@bsac.bm.
Read More About
Category: All, Environment