[Updated] Crowds of people have packed the Fairmont Southampton for tonight's [Oct 13] 'All or Nothing' boxing and kickboxing bouts, which will see some of Bermuda's finest fighters taking on international talent.
The top fight of the night will be between Bermuda's world champion Teresa Perozzi and undefeated American Tori "Sho Nuff" Nelson, with both fighters battling for the WBA World Middleweight Title and the WBC World Middleweight Title.
A number of other fights will take place, with one of the island's top kickboxers — Sentwali Woolridge — fighting Canada's Daniel Kechego, while up and coming fighter Nikki Bascome will take on Justin Garant of Canada.
The lineup for tonight's matches is below: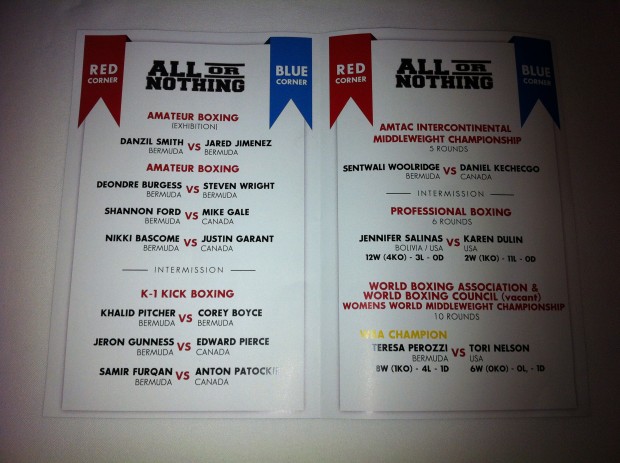 Update 11.56pm: The main fight is just now underway, with Bermuda's Teresa Perozzi being escorted by the Gombeys into the ring. Quick video below, with full [higher quality] video to come later.
Update 12.17am: The fight continues…getting close to the end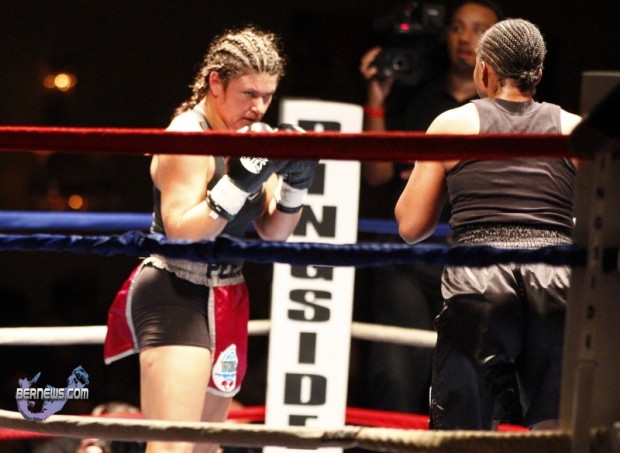 Update 12.31am: The Teresa Perozzi vs Tori "Sho Nuff" Nelson fight ended in a draw. Ms Perozzi retains her World Championship belt.
The full results, multiple photo galleries and videos have been added. All our coverage of the event can be found here.
Read More About