The proportion of post-secondary graduates reached an all-time high in 2010, as the Island's working population aged 25 to 64 years continues to progress towards achieving a higher level of education according to a new analytical census brief.
The brief, titled "Education: Springboard to Employment and Higher Earnings" was released today [PDF]. The brief has examined the progress in educational attainment between 2000 and 2010 and has explored differences in occupations and earnings based on the highest academic qualification achieved.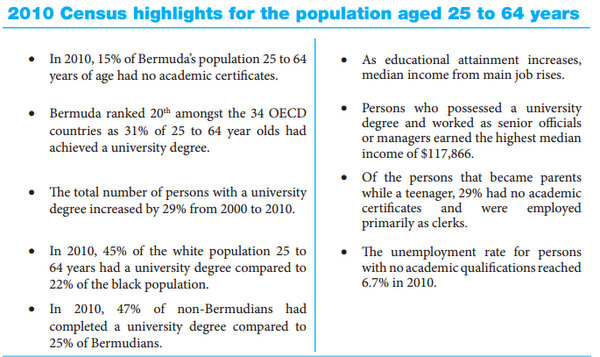 Based on the 2010 Census of Population and Housing, the proportion of the population aged 25 to 64 years old with post-secondary education was a record 52%, compared with 50% a decade earlier. The majority of these graduates completed at least a bachelor's degree.
Nearly half or 47% of non-Bermudians have completed a university degree compared to 25% of Bermudians. The higher percentage of non-Bermudian degree holders reflects directly the recruitment of workers from overseas to fill positions at the professional, senior official and managerial levels.
As education levels increase, median income from main job rises. Persons who possess a university degree and work as senior officials or managers earned the highest median income of $117,866. In contrast, service and sales workers with no academic certificates earned the least at $36,703.
Unemployment rates were highest for people with no academic certificates and lowest for persons holding degrees.
The full 16-page report [PDF here] is below:
Read More About