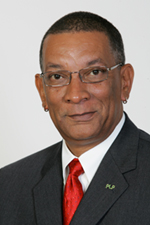 [Opinion column written by Lt/Col David Burch]
It's unfortunate that politics in Bermuda seems to have morphed into a discussion about who can do the same things but better. Where is the vision? Where is the ideological difference between the parties? Where are the comparisons of the respective records? The answer is they're there; you just have to find them and in some cases be reminded of them.
Make no mistake; there is a definite ideological choice in the upcoming election. There is a clear difference in a PLP Bermuda and a Bermuda managed by those others. No matter what those people's commentators, candidates and bloggers might say, the PLP has made positive change in this country and in fact has impacted Bermuda for the better.
A record of fourteen years in Government cannot be defined by daily headlines. It can only be defined by what has really been done for the people. Here's a very small example.
A friends' car has been in the repair shop for almost a month awaiting a part. For that month they have never been without personal transportation. How? Because they've had a loaner vehicle from the shop the whole time.
This PLP Government made that possible and now we almost take it for granted. A very simple legislative change that has saved my friends money and has allowed them to keep to their schedule and have no interruption to their daily lives. While the Opposition can't make enough noise about many other sectors of this country and what should be done with them, the PLP's record is one of positively impacting the lives of the people. That's the most important sector for us.
This economic downturn has hit everyone, some harder than most. While they talk only of the Government's balance sheet and how much money the Government should have sitting in surplus, the PLP Government is proud to have softened the blow for the majority of our people.
Imagine how the single mother would be doing without the benefit of the Child Care Allowance.
Imagine the impact on Seniors without the benefit of consistent pension increases through the years.
What would the war veterans and their families be doing without a respectable pension for their service to this country?
Our "Rainy Day" plan for this country is not to brag about Government surpluses so that our balance sheet is healthy while the people suffer. This is probably the starkest difference between the PLP and the Opposition. We measure our success by how we help our people; providing assistance in good times and in bad.
You see, they only think of assistance to the people in hard times – hand-outs – so you are beholden to them – no thought to advancement and upward mobility. When we provided the benefits for childcare and pension increases to seniors; increased bursaries and extended employment opportunities, times were good. We invested in people on principle with a philosophy that says: If you give a hand-up to those most in need they will in turn enrich their community; not charity in hard times just to help folks get by.
Bermudians – Listen carefully to them: First, when they were the UBP, the criticism was the benefits were electioneering. Now they've morphed into the OBA – they say there's not enough money to go around to give away more.
Well you cannot have it both ways.
Again, that's another start difference between the PLP and them – we do it on principle. Nail us on our vision, hammer us on our ideology but do not pander to the worst elements by shifting positions to suit an election campaign.
Listen to the noise now. The same people who were against fast ferries and the modernisation of the bus fleet now want them to run more and better. Air-Conditioned buses are for the lady taking her bag of groceries home after a long day at work. Fast ferries are for West End and East End residents who want an alternative to the roads in the mornings. Each and every initiative and policy we have implemented has been measured by how it will positively impact the people of this country.
Even in little Bermuda there is room for big ideas and a difference of political ideology. The PLP is clear on where we stand on the issues. We are the Party of Lois and Freddie. The Party of social justice and equality for all. "We can do it better than they can" is not a campaign slogan. It is a vision for Bermuda.
Everyone should read the NoBA's brochure published this past week. To fully appreciate it though, you'll have to believe history began in 1998 or later.
I say that because as if by magic, the reformed UBP has a social conscience. Having resisted virtually every socially progressive programme instituted by this Government, the NoBA now wants to own them all; and more.
Let's look at a few things that appear to have changed:
They opposed CITV but now want to broadcast the House of Assembly on the channel, so it must now be a good idea.
They want to redevelop the Hamilton and St. George's Waterfronts. Nice idea, where's the money, remind us who owns the land and what's the overall plan? Ships or no ships…funding options…this is too big to suggest without details…
They claim to be able to reduce the cost of electricity by properly regulating the energy sector. Really? How and have they broken the news to Belco and its shareholders?
These are serious proposals not to be thrown out willy-nilly.
People need to know how they will be paid for.
People need to know what the ultimate goals are.
Projects like the Waterfront don't stand alone; they should form part of a wider economic and tourism strategy. It's not enough to say, "We'll build it"; where's the plan for use; where does it fit in with what the country needs?
There is a choice in this election and it's a choice between fairness, equity and people-centered policies versus a flimsy, trickle down approach that says: Just give us the keys, we know what to do. Sorry, that's not enough. The PLP has a record and it is one to be proud of. We have done well reversing the wrongs of the last 400 years and in 14 years, we've come a mighty long way.
No-one thought we could accomplish as much as we have, but under four Premiers and successive Cabinets – Bermuda has become more open, democratic, international in scope and respected as a leader in so many areas. This PLP Government has a story to tell and in the coming weeks and months it will be told and the people of this country will again embrace this Government as the right choice to continue to lead us through the recovery.
Someone has got to draw a line in the sand between us and them. I do so without demonizing or ridiculing anyone – simply put, the Bermuda Progressive Labour Party remains the very best choice to lead this country.
So Bermudians – as always you'll get to decide if your government has been good stewards of this country and deserve to continue to do the work still yet to be done. Don't be afraid to let us know your feelings – because at the end of the day – that's what true democracy is all about – A partnership with those elected to serve and those who elect them.
- Lt. Col David Burch is a former Senator and National Security Minister, and the PLP candidate for Constituency #27 Warwick North Central. 
Read More About