The 2012 Convening of Youth Parliament took place on Thursday [Nov.15] at the House of Assembly, featuring an address by Youth Premier Ryan Robinson Perinchief.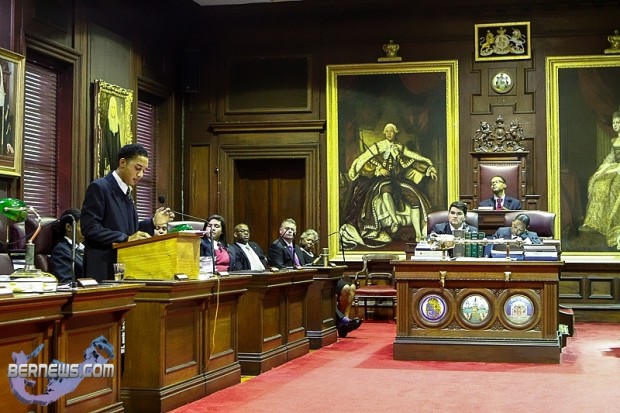 Youth Opposition Leader Jashonae Smith delivered the Yearly Report and Guest Speaker Carlton Simmons from Youth on the Move also addressed the House. Guests filled the gallery to witness the event and the young Parliamentarians were joined by members of all political parties and Deputy Governor David Arkley.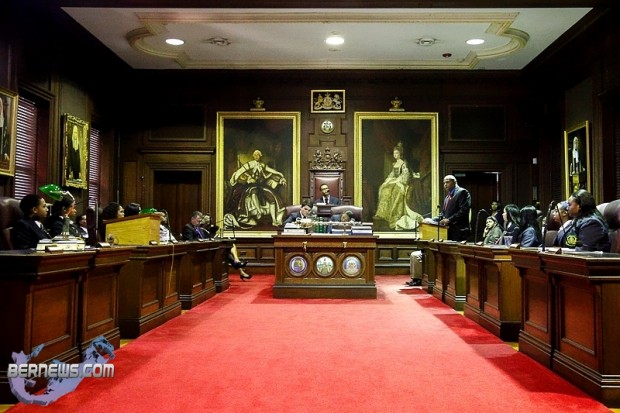 Modeled on Bermuda's official Parliament, the Youth Parliament of Bermuda was founded in 1985 and meets on Wednesday afternoons at the House of Assembly.
Ryan Robinson Perinchief, Youth Premier's full address follows below:
Mr. Speaker and Members of Youth Parliament,

I am sure that we as a people can openly admit that, in the last few years, Bermudians, like those in many other countries, have seen many challenges. We have all been majorly impacted by the global economic recession, and on the local scale, a now 'not so recent' spate of gun crime. Certainly we are conscious that any decisions made in regard to our country are now more significant than ever.

It is unfortunate Mr. Speaker, that in the midst of all of the challenges being faced by our more adult population at large, the young people in this country are being impacted in unprecedented ways, and in some cases, seem to have been forgotten. With the presence of gangs now being accepted by students as "the normal", with many parents out of work, and with students who are now unsatisfied with their standard of education, it is no secret that we have entered into a new era.

Mr. Speaker and Members of Youth Parliament,

I will not deny that our government and local charitable groups are working hard to combat these issues with their limited resources. However, I believe that because these issues are most prominent among the youth in our country, we, the young people, are in the best position to help provide solutions to these issues.

After all, we are the ones who experience them in our day to day lives, and we are the ones who will have to deal with them in the future. Undeniably, the best way to gather the perspective of our youth is through none other than this organisation, The Youth Parliament of Bermuda.

Mr. Speaker and Members of Youth Parliament,

Although today marks our official opening, we as youth parliamentarians have met every week since the start of the school year to identify, discuss, and provide solutions to many hot topics that affect not only our young people, but our country at large.

We have appointed 2 ministers for each of our 8 ministries, and they have been working extremely hard to identify ways to eradicate issues in regard to their specific ministry.

Mr. Speaker, I would like to start by sharing with the public and media, some of the more controversial topics brought up by our ministers, as they help to determine the course of Youth Parliament throughout the 2012-2013 sessions.

Our first formal debate, Mr. Speaker, was held on September 19th, and fell under the Ministry of Youth Rights and Crime Prevention. The motion, undertaken by The Honourable Member Ariana Caines was, "This house take note that sexual orientation be implemented into the Human Rights Amendment Act."

Mr. Speaker, after this debate, we as representatives of the youth voted on this motion, and I am pleased to publically state that members were unanimously in favour of it.

A key point that we would like to make is that this Youth Parliament does not support "gay rights" – we support human rights. What we mean by this is, whether someone is homosexual, heterosexual, black, white, or anything in between, all of us as Bermudians deserve to be protected from all forms of discrimination in our own country.

Therefore, we believe that this amendment should be made without hesitation, and we thank the Honourable Premier Cox for her commitment to doing this, as mentioned in her Throne Speech. If our young people can commit to treating others equally, certainly our adults can as well.

Mr. Speaker, another issue that has been widely discussed within our community is the spate of crime that has swept through our island. A few years ago, when the shootings first began, there was outrage. Now, it seems that our general population have come to accept that these shootings are monthly routines.

Although many Bermudians were shocked when criminals began to drop the machetes and pick up guns, we believe that this surge in gun crime and antisocial behaviour did not come upon us overnight. This issue was preventable, and we as a community have been slow to act.

Yes, more proactive measures are necessary; but in the meantime, we must be swift and forceful. We believe that this wave of gun violence is no longer just a wave.

Many students have already adjusted to the increased presence of gangs in their schools, and guns in their communities. There are even some students that are of my age who have seen and handled firearms.

Honourable Member Nicholas Pell, our Minister of Youth Justice and Rehabilitation, is currently drafting a proposal that will outlaw gang membership. Our second Minister is currently drafting a proposal that will provide alternatives to our Westgate Correctional Facility.

We believe that these courses of action are necessary Mr. Speaker, because if we as a country allow this behaviour to continue, the Bermuda that we have come to know and love will be only a memory.

We have not taken a vote on this as of yet; however, we will issue a press release when we come to a conclusion, so that members of the public will be aware of exactly where our young people stand in regard to crime in our community.

This Youth Parliament is dedicated to eradicating gang violence and its development throughout the course of this session.

Mr. Speaker and Members of Youth Parliament,

You may also recall that last month, we supported the Vasco da Gama club in their initiative to have Portuguese taught at the Bermuda College. We intensified that cause by advocating that Portuguese be added as a language option not only at the college, but in our public school system as well. The Portuguese community have a large influence on Bermuda.

It is estimated that up to 15 percent of Bermudians are Portuguese, and up to 30 percent of Bermuda's population have ancestry related to Portugal and the Azores. To the surprise of our Minister of Youth Culture, Brandon Sousa, it was discovered that the Bermuda Government had already made an agreement with Portugal to teach the language to our students…back in the 1980's.

The Youth Minister responsible is currently researching why our country's second language is still not being taught to our young people, decades after an agreement was signed.

As the late John F. Kennedy stated, "We must do all that we can, to give our children the best in education and social upbringing – for while they are the youth of today, they shall be the leaders of tomorrow." Not only is this quote reflected in our motto, it is reflected in everything we do at this Youth Parliament- and it is our mission that this is also reflected in our public education system.

Having said that, our Ministers of Youth Education and Employment have been working diligently to examine the flaws and strengths of our public schools. The Youth Minister responsible, Jazmyne Kristoff, is a public school student herself.

It is the view of many Youth Parliamentarians that middle schools should be abolished from our system. In our view, it is the three year period where adolescents are most vulnerable, and during this time, many students join gangs, experiment with marijuana, and begin to engage in sexual activity.

We believe that these effects could be reduced by removing the three middle school years, and instead substituting them with split primary and high school years; the physical middle schools could be transformed into specialized, technical, trade, and additional high schools.

This will reduce the negative impacts of having only two mega high schools. Currently, middle school is used as a means to develop gang ties – students form cliques at their neighbourhood middle schools, and then move into one of two mega high schools, where they are merged with the cliques from other neighbourhoods who went to middle schools in their area.

We cannot lump all of these students together at this crucial point of development in their life, and expect them to coexist peacefully. Additionally, our second Ministers of Youth Education is examining how students are not seizing the many opportunities available to them, through internships, scholarships, and other activities.

Mr. Speaker and Members of Youth Parliament,

I have so far outlined a few of the many current issues that we plan to address this year. However, I cannot sit down today without taking a stance on two more issues that have been recently discussed in the community.

For the past few years, a group of Bermudians have campaigned for the abolition of conscription. Some believe that the Bermuda Regiment should not be allowed to draft our citizen and force them to perform regimental duties. On November 2nd of this year, the campaigners against conscription received a commitment by our Honourable Premier that the Defence Act 1965 would be amended to put an end to conscription.

Mr. Speaker, this commitment to end conscription was immediately brought up at this Youth Parliament's following session. I personally believe that our general population will be surprised to hear the results of a vote that was taken in this house.

Youth Parliamentarians were given three options:
1. Conscription should be abolished.
2. Conscription should be upheld as it is currently.
3. Conscription should be upheld, but with reformed functions of the Regiment.

Mr. speaker, after the votes were counted, it was determined that of the 23 Youth Parliamentarians who had voted, 5 were against conscription. The remaining 18 members, and therefore the majority of this house do believe, however, that conscription should be upheld, and that the function of the Regiment should be reformed, by having it transformed into a National Defence Force, Coast Guard, or similar.

It seems as if many Youth Parliamentarians believe that if a student is not employed, or furthering their education, then mandatory labour, discipline, and above all, service to our country, would only be beneficial. Therefore, on behalf of Youth Parliament, I would respectfully ask that the decision to end conscription is reconsidered.

Mr. Speaker and Members of Youth Parliament,

The final cause that I would like to raise today, is perhaps the most relevant and recent issue to date. Last week, it was announced by our Honourable Premier that our next election will be held on December 17th of this year. Since this announcement, many of the young people who we represent have brought concerns to us in reference to the ability to vote.

LaShanda Seaman, a former Youth Parliamentarian herself, is currently studying politics at the University of Kent in England. Being that she hopes to be an influential leader in Bermuda when she returns, it is not surprising that as a Bermudian citizen, she feels it is her duty to vote. Mr. Speaker, Ms. Seaman is not the only one.

We understand that not every citizen will be on the island for every election, and this is exactly why it is essential that Bermuda's voting system is modernized. Whether it is through online or absentee voting, we as a youth parliament recognize this as has been an ongoing issue for many years, and we plan to discuss it and make proposals for change in the future.

However, we have not yet taken a stance on the recent particular issue. We live in a time where many of our young Bermudians are being told not to vote by numerous groups. This is unacceptable – and this is why we as a community must do everything in our power to counteract the efforts of those who wish to stop our young people from having a voice.

As Jose Marti, a Cuban activist, said, "The vote is a trust more delicate than any other, for it involves not just the interests of the voter, but his life, honour and future as well." It is for this exact reason that over the course of this next month, Youth Parliament will be campaigning in schools and online, reminding our young people of the importance of taking up a role in the community. We hope that our schools and the community will support us in this initiative.

Mr. Speaker and Members of Youth Parliament,

As you can see, we have a busy year ahead of us. Numerous issues have arisen in our community that we must address, no matter how time consuming they, or my speech for that matter, may be.

Today, I have listed only a few of the many issues that we plan to discuss throughout this Parliamentary year. In addition to the more recent and controversial topics I have addressed today, Youth Parliament also plans to provide proposals in the upcoming months, that will help to:

create a healthier Bermuda, under the direction of our Ministers of Youth Health and Safety,
provide better rehabilitation opportunities for our troubled youth, under the direction of the Ministers of Youth Development and Family Affairs,
develop tourism under the direction of its responsible Ministers,
encourage our young athletes and provide them with the support that they need, under our Ministry of Youth Athletics and Recreation,
enable our country to be a leader in green energy, under the Energy and the Environment Ministry,

and overall, make Bermuda a better place for the sake of the generation before us, our current generation, and the ones that will follow for many years to come.

Mr. Speaker, as Sheri Dew, a famous author, stated, "True leaders understand that leadership is not about them but about those they serve. It is not about exalting themselves but about lifting others up." Let this be a reminder to the Members of Youth Parliament here today, and the community at large, that we are the youth's representatives.

We as Youth Parliamentarians are fully committed to representing our schools, our constituents, our youth, and our country. However, Mr. Speaker, in order for this to work, our voices must be heard, our proposals must be considered, and our opinions must be recognized.

Mr. Speaker and Members of Youth Parliament,

I hereby extend my gratitude for the concern and support in hearing the many plans for the further direction of our fellow Youth Parliamentarians throughout this 2012-2013 session, which is now declared open.

Thank you, Mr. Speaker.
-
Jashonae Smith, Youth Opposition Leader's full address follows below:
Mr. Speaker and Members of Youth Parliament,

"Yesterday is gone. Tomorrow has not yet come. We have only today. Let us begin."

-A famous quote by Mother Theresa that speaks on the present, that speaks from the past, and that highlights the future. As our mission states, "We are the youth of today and the leaders of tomorrow." We are the future faces of this brilliant and prosperous country in which we reside.

Rest assured, we are ready to take on the trials and tribulations that will be passed on from the leaders of today to us the leaders of tomorrow. Trust me when I say that I personally have big shoes to fill as Opposition Leader.

I have experienced firsthand, the responsibility, the trials, and the tribulations faced by our youth on a day to day basis. Along with the Youth Premier, Ryan Robinson Perinchief, I have dealt with the struggles of leading a coalition Youth Parliament and understand all that it takes.

The idea that this is a normal hobby on Wednesday is a far cry from the truth. This is a day to day, 24 hour job, and we must always be on call to answer questions and assist with our youth's concerns. I have grown to enjoy my position as opposition leader and am quite confident that in the future I will be just as eager to take a leadership role in the Bermuda Government.

Without further a due, I would like to thank all of our public figures who are committed to serving our country in leadership roles.

Mr. Speaker and Members of Youth Parliament,

The session last year was one of great excitement and joy and from the official opening ceremony I was hooked. As a young face within the organization, I have fit in well and have made major improvement throughout my time here.

Proposals were made and debates were put forward. Within our fiery and passionate debates, we addressed many issues facing our country that the actual government were discussing at the time. We feel that it is our job as the youth of today to not only address the issues facing our youth, but to also address the issues facing our country as a whole.

I think we made a point that our voices can be just as loud as the government's, and we made our presence known.

Mr. Speaker and Members of Youth Parliament,

Last year, there were many proposals drafted by Members of Youth Parliament, of which, I will state a few. An exceptional proposal came from our Minister of Energy and the Environment, Meredith Gillespie. Her goal was to implement programs that will increase the sustainability of Bermuda's environment.

The Honourable Member at the time planned to do this by introducing alternative energy sources that are appropriate for our island, improving the availability of recycling in schools and energy efficient vehicles, and the introduction of more effective waste disposal methods.

An excerpt from her proposal stated, "Currently in Bermuda there is a minimal presence of alternative energy sources…the placement of solar energy panels on homes and businesses around the island already are evidence that alternative forms of energy can, must and shall be put into place before our dependence on electricity alone creates a serious problem for our country.

"The application of recycling programs in schools, more sustainable ways of travelling around Bermuda and the utilisation of hydroelectric power or solar panels as alternative types of energy should be implemented to address the problem at hand.

"A refocusing of the public's attention and interest into the introduction of a different type of energy than those commonly proposed before; tidal energy would be beneficial to our community."

Although this proposal has not been implemented, we must certainly regard it as an intelligent and thought out solution to helping our environment.

Mr. Speaker and Members of Youth Parliament,

The Ministry of Youth Athletics and Recreation, headed by former members Leah Brookes and Andrew Sussman, aimed to reduce the level of obesity among our youth, through more rigorous physical education courses.

It was noted that an astounding sixty-seven percent of Bermuda's population is classed as overweight due to inactivity and poor nutrition, and if an individual does not learn to be physically disciplined when they are young, the chances of them doing so as an adult are slim, creating an unhealthy community, which results in more government expenditure being directed towards health.

The last proposal that I will mention today is in regard to the Ministry of Youth Development and Family Affairs. This ministry aimed to evaluate the closing of residential homes, loopholes in the judicial system for young people, therapy, and work ethics. The Youth Minister noted that many residential homes, such as the Sunshine League, were being affected due to a lack of funding.

Without the help of the community there is no evident solution to this problem, we must work as one, as Bermudians. When children see this lack of support they often turn to other methods of supporting themselves such as drug dealing and crime.

We as Youth Parliamentarians suggested Child and Family Services can be more supported by the community until the Government can increase funding for these vital organizations. It is the opinion of the Youth Minister that in Bermuda we are private and tend not to help others because we are too concerned about our own survival- but organizations that are set up to help children need the community's support to survive.

Mr. Speaker and Members of Youth Parliament,

This is what we do at Youth Parliament.

We evaluate issues, and provide solutions. As I conclude the yearly report for our last Youth Parliament session, a quote comes to mind: "Our deepest fear is not that we are inadequate. Our deepest fear is that we are powerful beyond measure. It is our light, not our darkness that most frightens us.

"We ask ourselves, Who am I to be brilliant, gorgeous, talented, fabulous? Actually, who are you not to be? You are a child of God. Your playing small does not serve the world. There is nothing enlightened about shrinking so that other people won't feel insecure around you.

"We are all meant to shine, as children do. We were born to make manifest the glory of God that is within us. It's not just in some of us; it's in everyone. And as we let our own light shine, we unconsciously give other people permission to do the same. As we are liberated from our own fear, our presence automatically liberates others."

This quote directly applies to the development of youth parliament because we are today's youth, and tomorrow's leaders. As the quote states: "Who am I to be brilliant, gorgeous, talented, and fabulous? Actually, who are you not to be?

It is exactly right- who are we not to be? -We are the voice for the youth in this country that may not have the opportunity to speak…and we are the powerhouse behind all of the youth in Bermuda. There is nothing enlightened about shrinking so that other people won't feel insecure around us.

Trust me when I say that we will not shrink and cower at the challenge before us; instead we will rise like towering giants, fighting for the voices of the youth in the past, fighting for the freedom of the youth today, and paving the way for the future leaders of tomorrow.

With this commitment, I extend my gratitude for the opportunity to speak about out previous achievements, and our role in the community for years to come.

Thank you Mr. Speaker.
-
Click to enlarge photos:
Read More About