Youth Premier Namrata Bisht visited the Cabinet Office today [Dec 21] and spent half the day shadowing Premier Michael Dunkley, learning about the workings of Government.
Ms. Bisht, 17, participated in the Premier's daily schedule which included several meetings as well as visits to various Government Departments in Hamilton.
Recently, Ms. Bisht and her young colleagues participated in the Convening of Youth Parliament, where Ms. Bisht delivered the Youth Throne Speech. Some key topics covered in the Speech included mental health, education, same sex marriage, the environment and a variety of social issues.
Youth Premier Namrata Bisht with Premier Michael Dunkley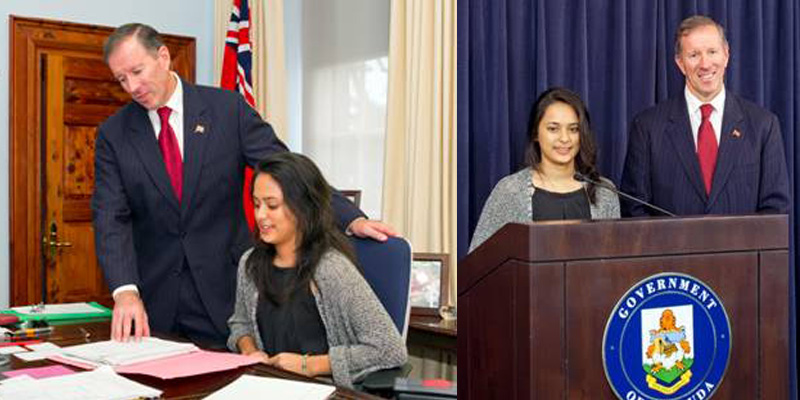 The Premier said, "It was a pleasure to have Namrata join me at the Cabinet Office today. I was extremely impressed with her confidence and poise and she was fully engaged in the issues facing the community. All of our Youth Parliamentarians have a wonderful opportunity to learn about our Country, our democratic process and the laws that govern Bermuda.
"The Throne Speech that Namrata delivered was very insightful and thought provoking and I want to commend all our Youth Parliamentarians for their hard work and efforts. Ultimately, I encouraged Namrata to continue to pursue her passion for community advocacy, and someday, I hope to see her involved in public service as I believe she is one of our bright young stars who has much to offer Bermuda in the future."

Read More About