Independent candidate Kim Swan has congratulated his opponent Nandi Davis on her win, and congratulated the OBA on their overall victory.
Mr Swan, who was the incumbent, ran in C#2 St. George's West in a three way battle which saw the OBA win by by 4 votes. Nandi Davis [OBA] received 359 votes, Renee Ming [PLP] received 355, while Mr Swan received 214 votes.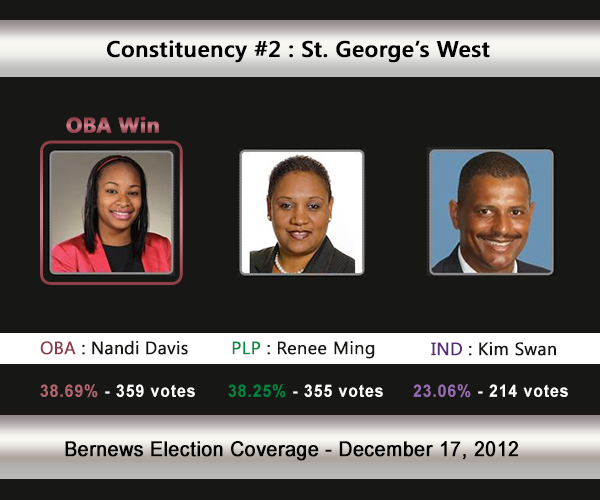 Mr Swan said: "First, I give thanks to the Almighty for having afforded me the opportunity to have served the good people of St. George's West #2 in the House of Assembly for the past 5 years.
"Congratulations to Ms. Nandi Davis on her victory in St. George's West #2 and condolences to Mrs. Renee Ming on her unsuccessful campaign.
"Strategically, a three way race against the machineries of the two major parties always made this contest extremely difficult for an Independent.
"Personally, I have no regrets and would like to thank my family, friends and supporters for their support, sacrifice and hard work. The people have spoken and I respect their judgment.
"A huge thank you to the people of St. George's West #2, it has been an honour for me to represent the great people of St. George's West over the past 5 years as their Member of Parliament.
"Congratulations to the One Bermuda Alliance on winning the government," concluded Mr Swan.
Read More About